Laurie Keller Quotes (Page 6)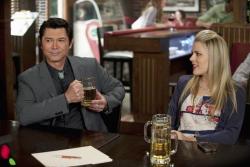 Season 2, Episode 17: "You're Gonna Get It"
Laurie: The answer was Grandma Moses. You should have gotten that Ellie; weren't the two of you sorority sisters?
• Rating: Unrated
Laurie: I heard she kicked your ass. Must sting to lose to Oldielocks.
• Rating: 5.0 / 5.0
Laurie: I went to a crap school in a crap neighborhood and reading really got me out.
Jules: It did?
Laurie: No, car modeling did. But it's really fun to say reading did.
• Rating: 5.0 / 5.0
Laurie: Jules I didn't know you sponsored an African child.
Jules: Oh yeah, little Omari. He's 10. I gotta say those letters are getting a little repetitive. It's hot; I'm hungry; there's snakes.
• Rating: 5.0 / 5.0
Season 2, Episode 16: "Baby's a Rock 'N' Roller"
Laurie: I am pissed that they just played a Miley Cyrus song and everyone knew the lyrics!
• Rating: 5.0 / 5.0
Ellie: It is a gorgeous night and I have no kid waiting at home. Shiraz me. Laurie, you are rockin' those jeans. Hi girlfriend!
Laurie: Why's it being nice?
Andy: Is this the golden seven minutes?
• Rating: Unrated
Andy: When you're dancing alone, I stand behind you and go "Damn!"
Laurie: Yes, because ass worship is contagious.
• Rating: Unrated
Laurie: Tell her I'll get like, jury duty drunk.
• Rating: Unrated
Bobby: You need to go hit it and quit it.
Andy: Toot it and boot it.
Laurie: Whip it and skip it.
Bobby: Wax it and tax it.
Andy: Mother it and smother it.
Laurie: Bop it and drop it.
Grayson: Chuck it and ... re-chuck it.
Laurie: Yours don't make any sense.
• Rating: 5.0 / 5.0
Season 2, Episode 15: "Walls"
Laurie: You have to spend money to make money, right?
Bobby: That's a popular saying, so I believe in it. It's like "Location, Location, Location." I don't know what the hell that means, but man I believe it to the core.
• Rating: Unrated
Are we missing your favorite quote from "?" Submit it here and get points for adding quotes!
Total Quotes: 123