Nashville Review: Mothers & Daughters
Leigh Raines at . Updated at .
Gah, I hate a cliffhanger! 
Nashville Season 2 Episode 19 was all about mothers and daughters, both good and bad. And it left us wanting a lot more.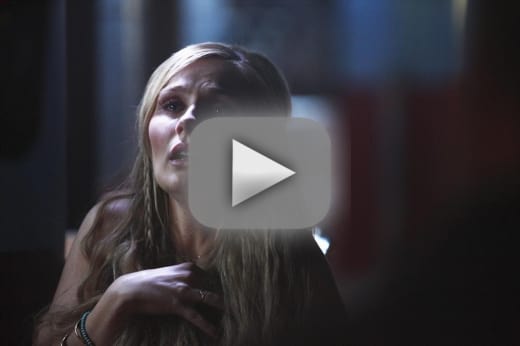 Scarlett's momma made her debut in Chicago and her act was scarring, to say the least. Played by another Friday Night Lights alum (Dana Wheeler-Nicholson) Beverly had a short fuse. 
For two years, people have wondered why Scarlett would want to go into music if she was so skittish and shy. Obviously the musician part was in her blood, but what about her bashful little girl persona? Well, sadly that came from years of abuse.
I think it's safe to say why Scarlett has a hard time coming out of her shell. Beverly used to sing with Deacon but she got pregnant with Scarlett. She's spent these last twenty-something years blaming Scarlett for preventing her from getting her turn in the spotlight.
She was awful and spiteful at the smallest thing. She was angry with Scarlett for Deacon not having told her about Maddie. Uh lady, if you were my sister I wouldn't call you either! Scarlett finally hit a wall. A combination of tour nerves, an abusive mother, pills and alcohol led to her hallucinate and have a nervous breakdown on stage.
I'm so glad Avery was there. He knew something was up with Scarlett, knowing both her and Beverly so well. Juliette also knows how to spot somebody on drugs just like she did on Nashville Season 2 Episode 18.
But at least not every mother on Nashville is terrible. Rayna explained to Maddie in the last episode why she has always wanted to protect her from the media. I think Rayna, Teddy, and Deacon did some good damage control. 
In fact, I was surprised at just how well Deacon answered all of Robin Roberts' questions. He was a pro. I'm also incredibly proud that he didn't drink anything. However, his good press performance doesn't make any of it less complicated.
Another heart to heart was had between him and Rayna and once again it became clear that there is a chemistry between them that will never go away. Luke knows this too.
You think I wanted it like this? I wanted to be your wife. I wanted us to raise her up together in a wonderful loving home that you could not provide. I cried myself to sleep about that for a year, I wanted it so bad.

Rayna [to Deacon]
"I wanted to be your wife." I don't know what it was about that one sentence, but I just thought to myself oh damn. It's not like we didn't know this, it was just the way it all came out. 
So is there future hope for Rayna and Deacon?