During last week's Blue Bloods review, I mentioned how little we've seen of Jamie Reagan so far this season. In "Scorched Earth," he finally took the spotlight, but it only served to remind me that he may have gone into the wrong profession.
After a bride was murdered in a gang style drive-by shooting, the uniforms were told to utilize the NYPD's stop and frisk policy to round up gang members to get some answers. 
Officer Cruz saw some sort of non-verbal communication between the gang member being arrested and the kid on the stoop. Jamie witnessed the same incident but only interpreted it as the kid stretching. Both men saw the same event, yet perceived it as something different - and that's where the problem started.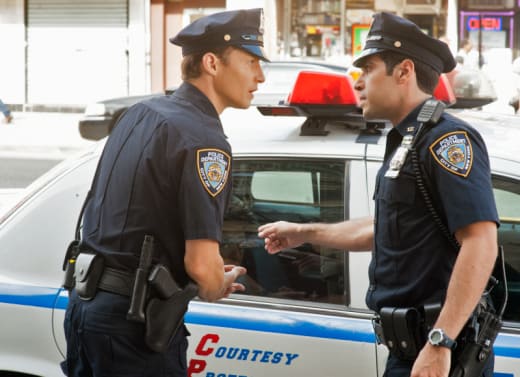 I'm not a fan of Cruz. He's a cocky ass but in this case he was right. The kid was hiding the murder weapon and how they arrived at that answer was where Jamie had the problem.
I'm not a cop or a lawyer, but I'd assume that when they asked to talk and the kid tried to flee, that gave them reason to stop him. Did they have the right to frisk him? It seemed reasonable to me and certainly the bag of weed gave them cause to bring him in.
But Jamie viewed everything through the eyes of a Harvard Law student, not an officer. The question becomes whether that's a help or a hindrance in doing his job.
I enjoyed the conversation between Jamie, Frank and Henry. They asked relevant questions. Did the stop lead to a false arrest? Did it put anyone in harms way? Did the end justify the means?
My only wish was that Danny had been involved in this conversation.
That Jamie was in such utter distress over this arrest became tiresome. That he panicked when the DA's office sent a detective to question he and his partner over the arrest seemed silly. The fact that he went off on his sister for doing her job was downright ridiculous. 
The law itself may be black and white but the reality of being a police officer is filled with shades of gray. This episode really made me wonder if Jamie is cut out for that life. 
Frank's storyline with the evil dictator also disappointed me. As much as I enjoy having Frank play the hero and moral compass, it seemed far fetched that he could pull his detail off of a foreign diplomat to force him to leave the country. Wouldn't the State Department be all over that? Again, I'm no expert but I'd bet there would be so many layers of bureaucracy involved that it would take more than pressure from the police commissioner to get that man out of the city.
Linda should have won an award for the most patient, understanding wife in history but she has been a cop's wife for 16 years. I'd bet this isn't the first anniversary Danny's missed. However, I did find it interesting that her youngest son seemed to take more offense to his father's absence than Linda did.
And for once, Danny's case didn't feel like the only focus of the episode. As much as the other story lines may have annoyed me tonight, it was good to see Will Estes get some long overdue screen time, even if it made me wonder which direction his character is headed.


C. Orlando is a TV Fanatic Staff Writer. Follow her on Twitter.