"Old Wounds" walked the fine line between love and hate, truth and lies, and the difference between fighting for justice and being a vigilante.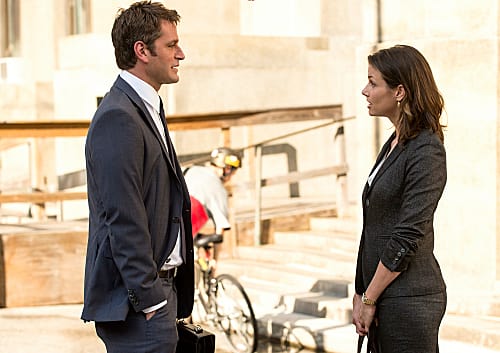 We'll start with justice. Lily Rivera certainly never got any. The four men who gang raped her walked away on a technicality and she's suffering from such a bad case of PTSD that she'd prefer to be dead. To see those men high-fiving one another in court as they got away with it must have been horrifying.
I could understand how the detective just snapped. I was surprised he didn't shoot the third man. He'd already killed two of them. I can't imagine taking out the third would have changed his case any and I doubt Danny would have shot him to stop it.
As Danny confessed in his conversation with Jackie in this Blue Bloods quote…
Jackie: What did you say to him in there?
Danny: Mostly lies. What I wanted to tell him was go ahead and shoot the son of a bitch and let's be done with it. | permalink
Jackie was right. Doing their job is the difference between being a cop and being a vigilante criminal, but as Danny pointed out, sometimes that line starts to look blurry.
Frank's Commissioner for the Day candidate was an interesting case, as was the question of how much truth to tell him. I understood why the detective on the case tried to protect him but he's 18 now. Frank was right to tell him the truth. He had a right to know, no matter how unpleasant it was. Now he can make decisions based on facts and move forward.
Erin's ex, Jack Boyle, returned and I loved it when Erin firmly established her boundaries. If he's going to move back, make it at least 20 blocks away from Erin. It will be bad enough to run into him in court. She doesn't need to be tripping over him on the way to the dry cleaners. 

I also appreciated the directive for him not to promise Nikki anything until it was a sure thing. Nikki is growing up but there are only so many times he can disappoint his daughter before their relationship becomes damaged permanently. Erin was simply looking out for her daughter. 
I was a little surprised that Erin didn't tell Jack she kept the name Boyle because it was her daughter's last name but I doubt anyone but Jack will dislike her going back to being a Reagan.
As harsh as Henry's greeting was, i liked Frank's better. He was quick to remind Jack of all that he's lost.
Frank: You had two of the best women I've ever known and you let them both go. | permalink
As with last week's episode, I was left to wonder what happened with Jamie. Once again he was relegated to one scene with barely any dialogue. Why bother having the character if he only has something to do every third episode?
There was no Sunday dinner this week, just Nikki's party and it's not quite the same. Still, I really enjoyed the entire episode. My Friday nights just aren't the same without the Reagan clan.


C. Orlando is a TV Fanatic Staff Writer. Follow her on Twitter.