Welcome back, Burn Notice fans!
It's been 183 days since we left Michael standing in the street, watching Fiona turn herself in on the Burn Notice Season 5 finale, and it's been 183 days since Michael threw down the gauntlet with Anson and said he was done... not that I've been counting or anything.
The summer favorite returned with both guns blazing in "Scorched Earth." And those 183 days waiting? Totally worth it! Now let's break down this action-packed first outing...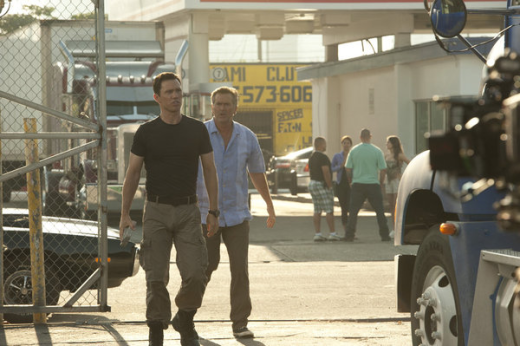 Updated Intro: USA allowed viewers to vote on a new versus updated intro and I'm thrilled that the latter won. My wife's biggest cheering moment was when Fiona was described as "trigger happy girlfriend" (dropping the "ex").  However, I'm confused by the description of Jesse as "a down and out spy you met along the way." Really? That's how you describe the guy you burned? Well, at least he made the credits. 

Fiona In The Pokey: So my biggest question going into season six was wondering how long was Fiona going to be in jail. The appearance of the lying, manipulative Agent Bly quickly proved that it won't be a short stay. I wonder if she will find "cases" to take while she's there. It worked on Leverage, so it could work here.

Anson On The Run: How quickly the table turned for Anson Fullerton. He went from being in complete control to barely staying one step ahead of Michael. Yet that one step still has a lot of weight in it. I'm calling it now: Anson has a "Plan B" and it is going to be well thought out. 

Agent Pearce Is Back: I wasn't sure how Michael almost burning her and the team was going to play out but it seems that Jesse was able to destroy the laptop and prevent anyone from being burned. Did anyone else catch Jesse calling her by her first name? I'm still rooting for a romance between those two. Yeah, I know it's a long shot. 

Michael Is Crazy For Fiona: Actually... Michael just went totally bat-crap crazy this week overall. While it was really cool when he stole the truck and ended the fight before it began, it was very not cool when he pulled a gun on Sam. Thankfully, Pearce was there to help talk him back down out of the rafters. 

Madeline Can Take Of Herself: Not only can she take care of herself, she saved Jesse's ass too! I have always loved Maddie. Veteran TV Fanatics will know how often I mention that she reminds me of my own mother and that she had inspired more than one phone call to her. Between Maddie in Burn Notice and Sue Ellen in Dallas, it's going to be a tough first summer without her.

Man, talk about a jam packed first outing of season six! Did you get all your questions answered? Be sure and check out our Burn Notice quotes section to see if your favorite made the list! 

Jim G. is a TV Fanatic Staff Writer. Follow him on Twitter.

Tags: Burn Notice, Reviews