Chicago Fire Season 5 Episode 2 Review: A Real Wake-Up Call

Brittany Frederick at . Updated at .
There are moments in most TV shows where you wonder what a character is thinking.
Chicago Fire Season 5 Episode 2 is an entire episode of wondering what people must be thinking. The title "A Real Wake-Up Call" is fitting, because there are several people here that need one.
The major story involves the conclusion of the cliffhanger from Chicago Fire Season 5 Episode 1, in which Stella's ex Grant is rushed to the hospital after Severide defended Stella.
He's shocked that she insists on riding in the ambulance with the guy that just threatened her and understandably so. There are Lifetime movies that start like this.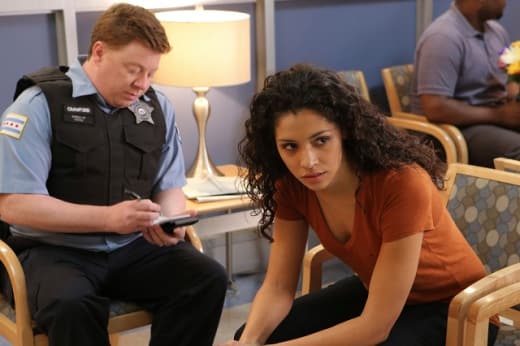 Severide turns out to only be in jeopardy for a handful of minutes as CPD ultimately offer to charge Grant with attempted murder. But Stella confuses everyone again by refusing to press charges. Instead, with some help from Chicago Med's Dr. Daniel Charles, she convinces Grant to voluntarily commit himself.
The idea seems to be that Stella believes Grant needs mental help more than jail time, but it's not that well conveyed. Instead she looks far too forgiving until her speech in the hospital where she credits Grant for helping her and asks him to help himself.
And speaking of Chicago Med guest stars, may I make a quick note to NBC: Colin Donnell was listed as being in this episode but Nick Gehlfuss is the one who actually showed up. Um, those two are not at all alike, and just when I was looking forward to Donnell stealing another scene with a pithy one-liner.
It's not my problem? I'm the one who had to get between you and his knife.

Severide
It's not entirely clear what's up with Severide in this episode either. Apparently his reaction to Stella's weird behavior is to act out. First he's going to a party with Travis Brenner (the guy whose friend he saved last week), then he's leaving the hospital after Borelli's injury because he has "a thing."
Okay, he's ticked off, but he's only been seeing Stella for what amounts to a few days, considering that this episode picks up right after the season premiere.
And leaving the hospital is awkward at best. Was he that invested in Stella already, or is he just reverting to the playboy Severide of old again?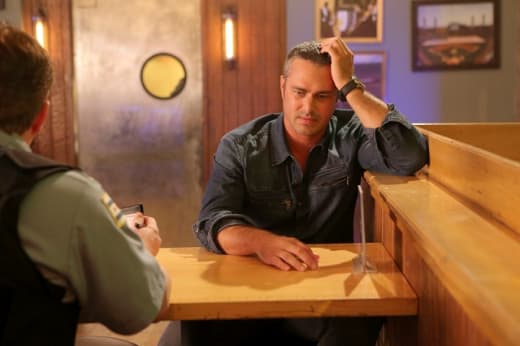 Then again stable domestic life doesn't seem to be treating Casey well either. At least Dawson finally found a nanny for Louie, but now there's this blackmail nonsense. Would Chicago Fire be better off if it ditched both the political and the adoption storylines?
Although let's not have this subplot end with Dawson being tearfully separated from Louie, speaking of scenes that could fit in a Lifetime movie.
And did we really need to bring back the Mouch and Brett writing romance fiction story considering how much story this episode packed in? It's not as if we were short on things happening, especially in the fourth act.
Casey: This guy can't take no for an answer.
Dawson: That's what the decline button is for.
Where "A Real Wake-Up Call" truly shines is in the Borelli story. It's like the firehouse is trying to parent a wayward child. They tried yelling at him and now they're trying to ignore him.
And after numerous mentions of how Borelli isn't right it's unsurprising that he does something very wrong. That's like when your parents kept telling you not to go and do something; of course you go and do it anyway.
You can't entirely get ticked off with him because he had good intentions. But at the same time there's part of you that says "told you so." The question will be what Chicago Fire will do with Steven R. McQueen now because as Casey says, Borelli's done.
So who was the wake-up call for? Probably everyone. So far the major characters are off doing their own things - Dawson with the baby, Casey with Dawson, Severide and whatever - so the team really needs to get it together and come together.
It's moments like what happened to Borelli that snap people to their senses very quickly. They also show the best of Chicago Fire. Even with everyone having turned on him for his behavior, that didn't stop the firehouse from being there to support Borelli. Except for Severide with his thing.
Now how ticked off will CFD brass be with Boden after not one but two Borellis are taken out in the line of duty? Will his injury change the way some other characters think? Hopefully everyone will learn because Borelli isn't the only one who's made mistakes.
Expensive equipment just being ruined here.

Mouch
If you want to re-watch "A Real Wake-Up Call" again or catch up with Season 5 so far, you can watch Chicago Fire online. Chicago Fire Season 5 Episode 3 is called "Scorched Earth," which is an unfortunate bit of phrasing considering where we left Borelli. It will air next Wednesday, October 25 at 10/9c on NBC and we'll be back afterward to see what else Chicago throws at its firefighters.
What did you think of "A Real Wake-Up Call"? Do you think anyone got the message? Leave your thoughts on this week's episode in the comments.
Brittany Frederick is a staff writer for TV Fanatic. Follow her on Twitter.