Who is Geronimo?
We are Geronimo. The people are Geronimo. Geronimo can't and probably won't be stopped, despite Proxy Snyder's best efforts to stifle the voice of the people by killing their actual voice on Colony Season 1 Episode 5.
But the more we learned about Geronimo, the more I started to worry about Katie and her work with the Resistance. Does anybody else get the feeling she's not working for the good guys?
I've not had a good feeling about Quayle and his team since the beginning, and the violence they use to accomplish their goals seems to be in direct contradiction to everything the positive power of Geronimo represents.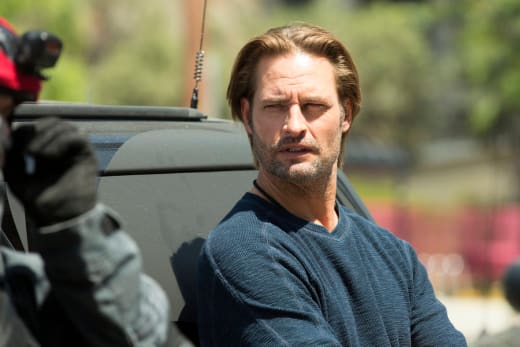 The brutality with which the Resistance Katie has gotten involved with operates is very similar in nature to the way the Red Hats operates, which I guess is no surprise given Broussard is party to both.
When the Hats pummeled that lady in the street with their battering ram? That was harsh. They're hardly "brave soldiers" as announced over the loudspeakers to the masses, are they? It's that contradiction, though, that keeps the resistance (with a small r) going, because their power is in their words.
It's their words that keep them going and it's the way they have chosen to fight. They won't let people be snowed by false statements if they can help it.
On the other hand, I'm not really sure what the Resistance is trying to carry out. And that's why it's hard to to root for them. Quayle says the Authority tried to diminish their hope, but his idea of showing strength is through brute force.
It was Phyllis' thought that playing into their hands would only get more people killed. Was killing her their way of shutting her up because she was hitting too close to home?
If you read what Ryan Condal had to say about what lies ahead for Colony Season 1, Will and Katie are on a collision course. Their two worlds are about to collide. From the final scene, it seems they're about to do that quite literally.
And why shouldn't they? What Will doesn't know about his wife can fill a book. Their marriage isn't on equal terms at the moment. Phyllis tried to get Will to take a closer look at it, but she was killed.
When Will was satisfied after spying on Katie on his own, Jennifer even finally came clean and admitted she doesn't think there is a leak in their department. So the Bowmans are on their own. They'll have to struggle through somehow. It seems like that's new for them, and likely to shake their family to the core.
Because they're so centered on what's happening in their own lives, they're missing really important clues about their son, as well. Does anybody but me think it's a really bad idea for Bram to be outside the walls?
While I thought it was pretty cool for us to get a look out there, it can't possibly bode well for the long term, right? Will is definitely off of his game if he didn't notice the look on his son's face being a little off when lying about the magic markers.
On the other hand, I'm not against Bram getting a lens for his teacher's telescope (although I'm not sure why he's so certain he can get one), because I'm just as interested in seeing what is in the sky as he is. When he sees it, though, who will he tell? Who can he trust?
Finally, let's talk a bit about Proxy Snyder, his decision "kill" Geromino and what we learned about the Transitional Authority.
We found out who Ally Walker is portraying, but not much else about her. She's Helena. She dropped mention of a Governor General, who seems important overall. Wonder if they'll come into play. When Snyder learned they hadn't shared details about Geronimo with their hosts, that's when he decided to cover things up.
It was a good try on his part, to "kill" Geronimo before he could talk. Make a deal to set him free to keep him quiet, then sentence him to death. It's all staged.
Of course, Snyder doesn't talk to Will nearly enough to get all the facts straight, which is how he got into this situation in the first place. It's hard not to see this coming back to bite him in the ass.
After all, the people are Geronimo. One voice dying isn't going to kill a strong movement. If anything, it should only strengthen their resolve, and I don't mean in the manner of the Resistance, either.
Or am I completely wrong? Do you think the souls behind Geronimo and the Resistance are one in the same or do you see them as a separate entity? Is the Resistance the will of the people, or are they the radicals, while the majority want change, but would prefer to see it done differently?
Don't forget, you can watch Colony online anytime via TV Fanatic to catch up with all the latest, so don't hesitate to do so. This one is only going to get better you guys, and it's already been renewed for Season 2!
Carissa Pavlica is the managing editor and a staff writer for TV Fanatic. She's a member of the Critic's Choice Association, enjoys mentoring writers, cats, and passionately discussing the nuances of television and film. Follow her on Twitter and email her here at TV Fanatic.