Callie's crazy, complex life became even more complicated on Grey's Anatomy Season 10 Episode 9. At the start of the installment, I was wondering when our favorite orthopedic surgeon would simply catch a break. Quickly, I realized that break wasn't going to happen any time soon.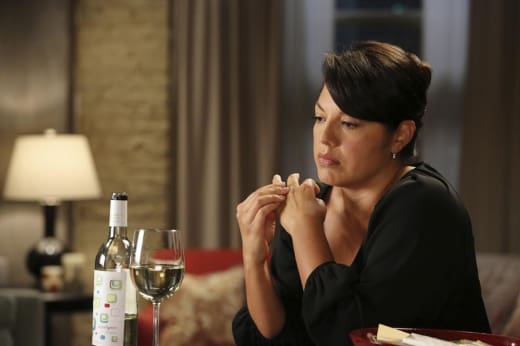 In an extremely intense hour, Callie was put through the wringer as she found herself faced with a malpractice lawsuit. Moreover, she wasn't the only one affected as both Jo and Cristina had to take the stand as well.
With flashbacks, we learned that the plaintiff was a patient and a former Olympian snowboarder. Referred by Cristina four months ago, Callie was the "Ortho goddess" that Travis Reed wanted to help him with a "Peterson hip replacement". Travis willingly chose Callie knowing that she had never performed the surgery before.
Complications during the surgery led to a botched surgery, infection, a revision surgery, a heart surgery, and finally, the loss of both of his legs. It was very tragic, but I strongly believe the jury made the right decision in finding Callie not guilty. She did the best that she could and that was evident. 
I was really glad that Meredith was there when Callie found the letter from the clinical trial. Dated three weeks prior to Travis' surgery, the letter stated that there were five instances of infection after the hip replacement surgeries led to the surgeries being discontinued. Meredith convinced Callie not to confess in court that she found the letter as it could sway the jury's decision. Ultimately, I think this was the right move. 
Side note: I thought the casting was great as every single line was perfectly delivered by Travis and even the lawyers.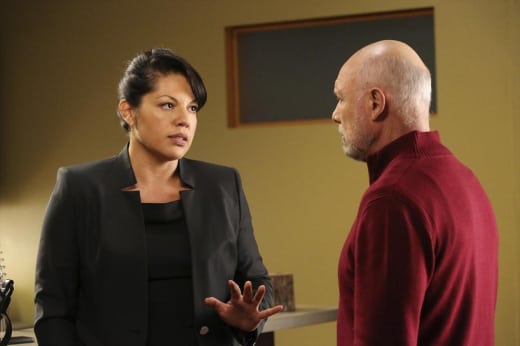 In the midst of the chaos, Callie's father arrived in Seattle to support his daughter. I always love when Callie's dad is around. I'm glad he was there for his Calliope. Also, it was awesome that the other doctors also showed up to also show Callie their support. 
Through the flashbacks, we also learned some surprising details about Calzona's marriage prior to Arizona cheating. From discussing babies to choosing sperm donors, from looking at new homes to first finding out Arizona was actually pregnant, it all felt lighthearted and I nearly forgot about all the recent Calzona drama. Unfortunately, though, we learned that Arizona miscarried.  
While I liked getting a better understanding of what exactly happened to Calzona and maybe reasoning behind why Arizona did what she did, I felt a bit cheated like Callie. I'm a huge fan of flashbacks, but I feel like we missed some major Calzona moments as we only saw glimpses of what happened. 
Other thoughts:
The father-daughter duo shared some majorly touching, unforgettable moments. When he confessed to cheating on Callie's mother and explained his reasoning behind mistakes and forgiveness, I knew Callie would immediately want to give Arizona a second chance. Do you think Calzona stand a chance or will Arizona's fling with Leah stand in the way of their happily ever after?
Is it crazy that I'm hoping some of the cast members from Private Practice will eventually make an appearance? Besides, doesn't Amelia want to meet her new little nephew?
Be sure to return next week to chime in on our Grey's Anatomy Round Table. 
While Grey's Anatomy Season 10 Episode 8 was likely the weakest installment thus far this season, "Sorry Seems to be the Hardest Word" was solid and featured Callie as the rock star we all know and love.
Seriously, Sara Ramirez was amazing. I also really enjoyed how different this episode was and appreciated the way the Calzona flashbacks added to the storyline. I'm stoked to see what else Shonda and company have up their sleeves for the remainder of Grey's Anatomy Season 10.