Grey's Anatomy Round Table: "Sorry Seems to Be the Hardest Word"

Christina Tran at .
Welcome back to TV Fanatic's Grey's Anatomy Round Table!
Our review broke down Grey's Anatomy Season 10 Episode 9, "Sorry Seems to Be the Hardest Word," in detail. Now, TVF's Christina Tran and Steve Marsi, along with Jarrod Mitchell, are back for a Q&A.
Read their answers below and weigh in with yours!
----------------------------------------
What was your favorite quote or scene from the episode?
Christina: Callie had a number of awesome lines. My favorite follows: "I'm so sorry. That makes me human. That does not make me negligent. And if I can't feel for my patients without getting sued, then I guess I'm just going to keep getting sued because that's who I am. I won't apologize for that."
Jarrod: I'd rather spin this and say that my least favorite quote of the night was "You should get dressed now... And leave." I understand Arizona wants her marriage back, and that her relationship with Leah may not going anywhere, but at least show the girl you've been bedding some respect. Arizona once again loses more points from me.
Steve: I can't choose one in particular, but this was Callie's episode, through and through. Kudos to the writers who wrote her many terrific quotes and to Sara Ramirez who delivered them with such believable urgency.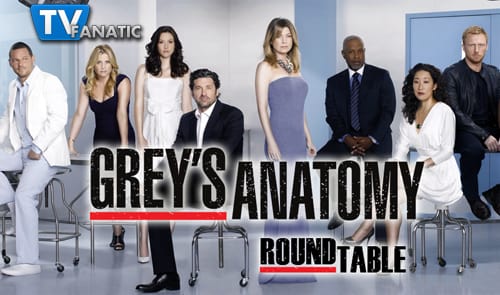 The episode was all about Callie and strayed from the usual format. Did you dig it?

Christina: Yes! It honestly was a nice break from all of the relationship drama we've seen since this season's premiere. Furthermore, Sara Ramirez did an awesome job and I enjoyed the medical story mixed with the legal ramifications very much. I'm hoping the writers continue to be brave and try some different things for us longtime, loyal viewers.
Jarrod: Totally with Christina on this one. I like the occasional character-centric episodes and it reminded me a bit of Private Practice's final season with character-centric episodes. I'd really like to see more down the line especially with Cristina, with this being Sandra Oh's final season.
Steve: I think the episode was extremely well done, so it's hard to argue with the format shift at all. If they can execute their vision, I support the writers' efforts to deviate from the standard ensemble format a bit.
What did you think of Daddy Torres' return?
Christina: Well, I'm a total sucker for father-daughter moments and so I loved it. Life happens, but it's nice to know the people who love you the most are always there for you when you really are down in the dumps.
Jarrod: Been a fan of his character since day one, so it was great to see him! There's never enough family when moments like these come full front and centre. Now if only we could get Thatcher Grey back on screen this season...
Steve: Hector Elizondo brings gravitas to the character and show, for sure. Callie and her dad have always made for memorable moments and this week was no exception.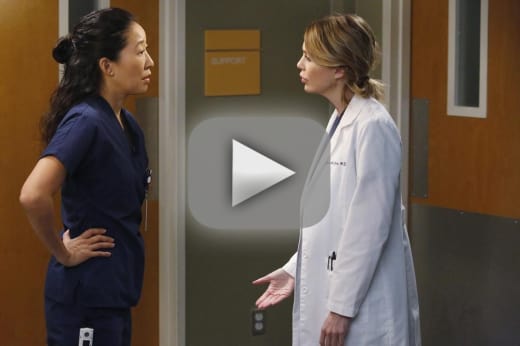 What was most surprising about the flashbacks used to show us happier days for Calzona?
Christina: Aside from all the quick tidbits of information we found out, I felt like everything we learned was rushed to catch us up to speed to present day. Finding out that Arizona miscarried was shocking; however, it didn't soften the blow of her cheating. I used to love Arizona and now I can't help but think Callie deserves so much better.
Jarrod: The whole thing was a surprise. However, it doesn't change a thing. If it's meant to make me understand why Arizona did what she did it doesn't at all. I'm not saying Callie is exactly perfect, but it seems they just threw it in there to try and build Arizona up and justify her reasons for cheating.
Steve: It definitely felt like a PR attempt from Arizona apologists to justify, or at least lend context to, her actions. I don't know that it did that, however. Between the miscarriage and losing her leg, it's undeniable that she went through a lot. Yet it doesn't wipe away what happened or redeem her in the present day, particularly in light of certain comments Arizona makes.
We've seen a variety of different and new pairings bringing some of our doctors closer as friends. So far, which has been your favorite duo?
Christina: Like I mentioned in my review, I was really glad that Mer was there for Callie when she found the letter from the clinical trials. These two moms have grown closer (I mean they did share a kiss recently!) and I'm glad they have each other to lean on during crappy times.
Jarrod: I'll have to agree with Christina on this one, once again. Meredith needs a new BFF and Callie does make the most sense to me. I just hope we don't see one of them leave at the end of this season, because I couldn't handle another loss of friendship this season.
Steve: Having just watched this episode it's hard not to pick Meredith and Callie, but I've enjoyed Grey's Anatomy Season 10 a lot for how they've switched things up overall. In the end I think all the characters have pretty strong chemistry together, which is not a small feat for a cast of this size.