Parks and Recreation Review: Epic and Private
Lisa Palmer at .
True love is eating a banana. And doing yoga is a sure sign there's something wrong upstairs. I learned some very important life lessons from "Animal Control" in a way only the Parks and Recreation crew could teach me.
This episode was funny in each segment, but as usual, Ron's doctor visit took the cake.
And put Ann with Ron and I actually like her! His sexual history, along with his exercise regiment, is one for the ages. And he's ticklish, so really, I couldn't ask for a better episode of Parks and Rec. And Jamm was back, but minimally, so his presence didn't bother me in the way it has in the past.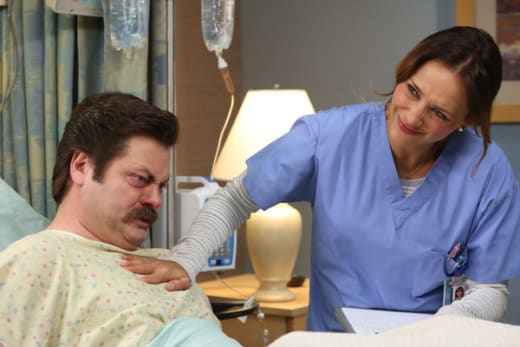 Dennis Feinstein seemed like the fragrance world's Jean Ralphio, which works fine for me. I'll never object to straight up ridiculous materialism on the show. Especially with Ben to mock it. And Andy! Way to speak up for your friends, even if it did cost Ben 25 grand. Although it is nice to find out that Rent-a-Swag is doing well enough to be able to donate to Ben's foundation.
And who doesn't love an episode of Parks and Recreation that shows April really making headway in her career? I have a feeling that when the show eventually comes to an end, April will be entering veterinary school. As for Andy, I don't have a clue. Andy's character is well-developed, but only in the way that shows us he's dumb, but ambitious. Sometimes. So I'm not quite sure where they could go with him.
It was nice to get a break from the Ann/Chris baby-mama drama this week. Putting Ann in her element as a nurse worked really well this week.
And the best part of tonight's episode? Probably watching Ron Swanson attempt to eat a banana only to finally succeed when he masks it with a Paunch Burger.
I am not worthy of this show's humor. You slayed me tonight, Parks and Recreation. Keep it up!