It's Always Sunny in Philadelphia Review: The Real Housewife of Techpocalypse
by Neal Lynch at .
On "Charlie Rules the World," Charlie rises to power in a popular online video game, but Dennis wants The Gang to come back to reality.
Season 8 has seen Charlie evolving from a powerless wild card into a legitimate threat. We first saw his cunning in the episode  "Charlie and Dee Find Love". Now, it appears that all those years of witnessing backstabbing and double-crossing, plotting and scheming, have paid off. Despite his dullard outward appearance and facade, Charlie's been absorbing The Gang's hare-brained tactics and learning. It makes me think that Charlie has been playing the role of Idiot Savant the entire time. Either that or he has multiple personalities.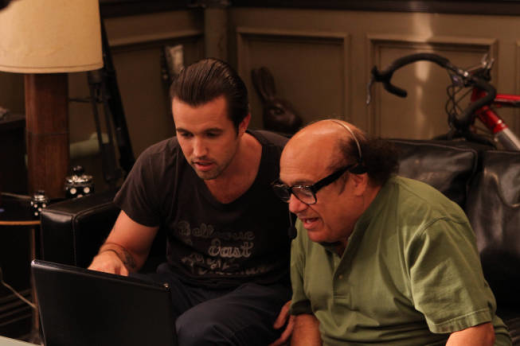 The transformation is confusing and jarring. Since when is Charlie "the thinking kind"? He's the mastermind? A part of me can appreciate the character's yearning to break free of his caricature; to come out of his shell or reveal his true self, but it just feels really inconsistent. Unless, this is somehow one really long con, in which case, I might love the patience and dedication shown by the show.

Dennis, on the other hand, has taken his narcissism to another level. He fully and whole-heartedly realizes and embraces his God complex (or once could argue Nirvana / enlightenment) in this episode and everything that makes his character great is on full display. The "Vanilla Sky"-like scene featuring him getting a haircut from British hair stylist Dennis then getting forced into giving him head is spectacular on so many levels. 1) It's a callback to the beginning of the episode when he says, "If that happens, I'll blow myself". 2) It's dead on for his self-absorbed nature. Dennis really does WANT to blow himself. 

It feels like there's an epic battle in the making - Charlie vs. Dennis for control of The Gang and Paddy's Pub. Dennis has long reigned supreme as the leader, but the long woe-be-gone underdog, Charlie, is making a push for the throne. In a way, it's a lot like "Game of Thrones". While most casual spectators view Dennis as the top dog, it's really Frank - the "ugly, old man" who's pulling the strings behind the scenes.  

Tags: It's Always Sunny in Philadelphia, Reviews
Related Stories