Chicago Med Season 3 Episode 17 Review: The Parent Trap

Elizabeth Harlow at . Updated at .
These docs just can't keep the drama out of the hospital, can they?
From bickering (maybe) exes to family feuds, Chicago Med Season 3 Episode 17 was wrought with conflict. Happy endings are hard to come by though, so we should be glad that they all made some small steps towards resolutions.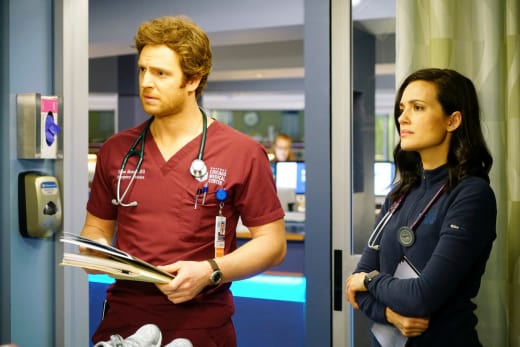 #Manstead is still on shaky ground, despite Nat's acknowledgment that she's not perfect, which I didn't understand. Of course she's not perfect, but it's also not her fault that Will's put her on a pedestal or that he's trying to make himself feel better by tearing her down. 
I'm just not digging the recent developments in their relationship. I was never fully on board with the romance, true, but I had come to accept it. Will had grown, Nat had chilled, all was good.
But the behavior we saw from our favorite ginger was concerning.
Related: Enjoy UNLIMITED access to thousands of Movies & TV Shows with Amazon Prime Video!
If you knew somebody in real life who related that encounter to you, you would tell them to run, not walk, away from that relationship.
Because, yes, it is up to one person for the relationship to be over. Or on a break. You can't force somebody to be in a relationship with you against their will. 
I'll grant that maybe Natalie could have better defined what she meant by a "break" ... but hooking up with a stranger after two weeks then expecting to go back to your partner is not endearing behavior. 
Will: You know, it must be nice always being right.
Nat: Sorry?
Will: Since the moment we started the case, everything's been your way. "We can't do this. We have to do that."
Nat: What are you talking about?
Will: I'm talking about everything...always being done your way. How we treat patients, what we can or can't tell them...Whether you or I are together or split up or on a break.
The whole situation was ludicrous, of course. There was no reason to assign two doctors to that case, Will could have overridden Nat at any point because he's an attending, and nobody called Daniel in on an OCD case. 
I know my fellow Fanatic Jasmine Blu wants us to suspend disbelief and not get too hung up on accuracy for medical shows, but come on!
Related: The Resident: Why Should Medical Accuracy Be Prioritized Over Entertainment?
While they're at it, maybe the writers could do a modicum of research on how hospitals operate, because the board of Gaffney is always in session. 
I'm not even asking that they go shadow at a hospital or hire more advisors or do anything that costs money. Or even time. Just Google. The bare minimum of due diligence is all I'm asking.
I shouldn't be able to unravel an entire arc about the possibility of Goodwin getting fired just because I had one question about how hospital boards work. 
Peter: Listen, I'm up here with them, okay? I hear which way the wind is blowing, and lately, the board feels that you are not making decisions that are aligned with this hospital's interests.
Sharon: Well, I'm sorry, Peter, but I though this hospital's *foremost* interest was in treatment of patients.
Besides, the board apparently has bigger things to worry about, like the fact they don't have a Di Vinci system. Okay, yes, this is a supremely nit-picky complaint, but seriously? The things have been around for 18 years!
Hell, I got to play with one at a local health fair!
Instead of worrying about Goodwin's decisions, maybe they should probably focus on the little matter of their lecherous donor. Talk about an HR and publicity nightmare waiting to happen.
Ava handled his inappropriate come-on perfectly. I mean, the temptation to spit in his face had to be pretty high, but she kept it together. 
Less cool: the way she messed with Connor. Maybe it's a cultural thing, but using a guy to make the one you like jealous is low enough.
Using his father is twisted AF.
Look, I, and the entire cardiothoracic department truly appreciate your patronage. But you and I are going to keep our relationship on a professional level.

Ava [to Cornelius]
It's also just not what I expected from her -- playing games that is. She's a total go-getter at work, I would have thought she'd be more direct in her personal relationships too.
The cardio fellows are obviously going to start a real romance, no matter the audience's opinion on the subject. I know a lot of you would like to see her hightail it back to Cape Town, but that ship seems to have sailed. 
Related: 17 Foxy Fathers On TV
At least one relationship seems to be going okay: Ethan and April.
Yeah, I'm not feeling the chemistry, but at least it's not toxic for either of them. I'm counting that as a win these days.
But I was pleased Ethan had some solo screen time, some time to finally deal with some of his issues about his sister without April breathing down his neck.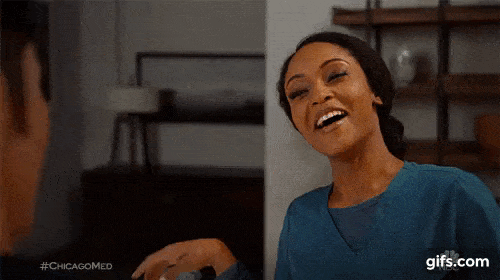 She's coming from a good place, of course, but she needs the same advice that Maggie gave Noah on Chicago Med Season 3 Episode 16 -- not all families are like hers.
I have no earthly idea how Emily could end up helping out around Gaffney, but I hope that Ethan's words to her were foreshadowing things to come. 
I love Ethan, but he does seem to need constant reminding that not everybody can live up to his rigid standards and it's not because their just too weak. Emily, and her potential attachment disorder could help him grow. 
Ethan [about a patient with attachment disorder]: He's never really going to be able to love them back, is he?
Daniel: By our definition? Unlikely.
Ethan: I don't know who to feel more sorry for, the parents or him.
But I'd also like to see him have some scenes with Sarah again. They had a great working relationship, and he's always believed in her.
With all the stuff going on with her dad, she could use a friend. Daniel's too close to the situation, and Noah...just no.
I hope she doesn't regret helping her father. There can't ever be the kind of meaningful and caring relationship with him that she's looking for, but I suppose her conscience will be clear at the very least. 
Daniel: Listen, I know you've had a very complicated relationship, and this is really none of my business, but...I think that if he should die before you have a chance to speak to him, that that could very possibly be something you would come to regret.
Sarah: My father [clears throat] has clearly stated that he doesn't want me to be a part of his life, so, uh, whatever regrets *I* may have...I just don't think any of them will be resolved by me talking to him.
I hope the ED team gets their ish together because they are going to need to be at their best on Chicago Med Season 3 Episode 18.
They'll be treating the victims of a mass shooting at a nearby park. Choi, with his Navy training, will take the lead, and his new mass casualty plan will hopefully save lives. 
Is it bad that I'm looking forward to the ED finally being hectic? Gaffney is always too calm for my tastes.
Related: NBC Cheat Sheet: What Will Be Renewed?
So, are Will and Nat going to mend fences and get back together, or are they done for good? Can Ava and Connor compete and be in love? Will Dr. Charles be able to help Emily like he did Ethan?
We want to hear your opinions, so chime in below in the comments section! 
You can watch Chicago Med online with us anytime. 
Elizabeth Harlow was a staff writer for TV Fanatic. She left the organization in October 2018.