The Good Place Season 2 Episode 11 Review: Rhonda, Diana, Jake, and Trent

Danica Leninsky at . Updated at .
In the best of the season, The Good Place Season 2 Episode 11 takes the humans, Janet, and Michael to Bad Place Headquarters.
Most of the prior episodes of The Good Place Season 2 have had standout moments for only a select couple of characters. The acting is consistently excellent all around, but of necessity, not everyone can be the star all the time.
What really feels special here is that none of the six main characters shines brighter than any of the others. They each have at least one moment in which they steal the scene.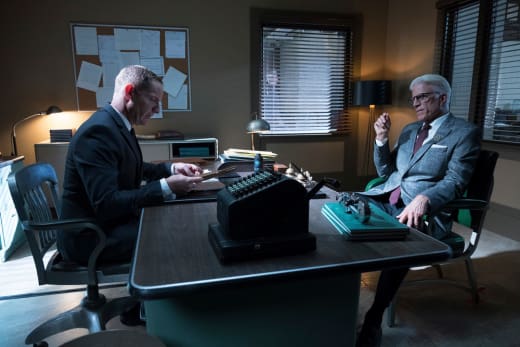 While Tahani continues name-dropping in hell, she revels in playing the role of Rhonda. Her accent and mannerisms are hilarious, and it was enough to take my focus off her constant self-absorption.
The irony isn't lost on me that I find her more tolerable when she's pretending to be someone she's not, but I have hope for her yet: she went without any major insults!
Janet is fantastic in her dual roles of Bad Janet and Good Janet Pretending to be Bad Janet, most notably as she fails spectacularly at being mean to Tahani on the train.
Eleanor reveals just how far she's come when arguing with Chidi about whether or not it's acceptable to lie. It turns out she read moral philosophy books that Chidi didn't assign.
Eleanor: So you can't even lie to demons? They're trying to torture us, man! We're behind enemy lines!
Chidi: Well, principles aren't principles when you pick and choose when you're gonna follow them!
Chidi channels his inner Jane Eyre, arguing that you can't pick and choose when to follow your principles. Eleanor's persuasive arguments on moral particularism are exactly what Chidi needs to hear, and it's a sweet scene for both of them.
Chidi remains indecisive, but his moment in the sun comes when he takes Eleanor's advice and embraces moral particularism. I didn't expect him to be able to lie well, so when he fully commits to his lie with a "ball-tap," I couldn't stop laughing.
"Rhonda, Diana, Jake, and Trent" is a particularly good episode for Jason, who proves everyone wrong by finding the perfect use for a Molotov cocktail. Jason, the unlikely hero who chooses the alias "Jake Jortles" because "Blake Bortles" would be too obvious, saves the day.
Michael: See, the Trolley Problem forces you to choose between two versions of letting other people die, and the actual solution is very simple: sacrifice yourself.
Perhaps the most remarkable character moment comes at the last minute. Michael sacrifices himself, letting Eleanor go through the portal instead of him.
Michael has only an instant to make that decision. Choosing to save Eleanor instead of himself proves to her that he has truly changed for the better.
Every time Michael seems to act selflessly, I find myself trying to figure out a way his actions could actually be self-serving. I suppose the writers and I have some trust issues after The Good Place Season 1 premise-upending twist. Nonetheless, the moment Michael shares with Eleanor is undeniably sweet.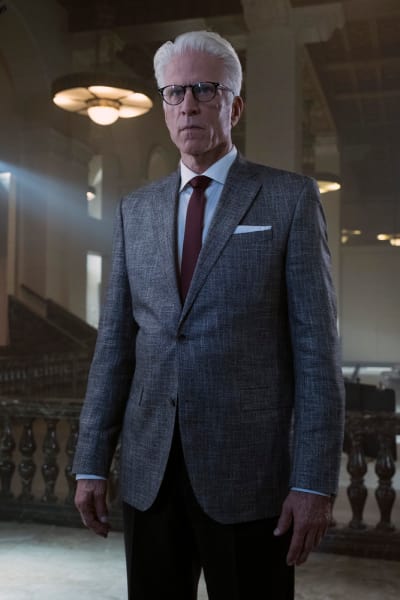 Kristen Bell's husband, Dax Shepard, was also featured as a Bad Place Headquarters resident named Chet. He's perfect in his role as a demon bro, and I was thrilled when he had a short bit with Eleanor.
I have to include a special shout-out to whoever decided to play a jazzy version of "Grandma Got Run Over by a Reindeer" in the background at the party. It's a subtle but hilarious callback to the demons' party in The Good Place Season 2 Episode 9.
Little Easter eggs like that make the show even better, but what makes The Good Place a truly great comedy is its ability to maintain its tone and creative plots.
I've worried many times that the show would lose its footing, most notably at the beginning of the season. The writers took a huge risk by resetting their main human characters, and the second season could have easily turned into a repeat of the first.
In a similar vein, The Good Place moves at a much faster pace than a typical network comedy. New, dire choices are thrown at the characters each week, creating a heightened sense of urgency and suspense that wouldn't work for most shows.
It would be easy for this to backfire by making the stories hard to follow or unfunny, but it's proven time and again that The Good Place is strong enough to withstand whatever situation they offer.
To remain consistently hilarious through it all is an impressive feat, and this was the perfect example.
Chidi: I don't think I can change what I believe just like that.
Eleanor: And I didn't think I would ever be at a cocktail party in literal hell lecturing my teacher/ex-lover about moral particularism, but life throws you curveballs, bro! And need I remind you, it was doing things your way that made you end up here.
After Michael erases their neighborhood at the end of The Good Place Season 2 Episode 10, the setting with which we've been familiar is gone, and yet again, they're off to another new place.
It's a lot of new information to process, but such gems as Jason shouting "PORTALS!" instead of his typical "BORTLES!" as he enters the portal are still being offered. Biting commentary on toxic masculinity with the demon bros and the Museum of Human Misery is even squeezed just when you think there is room for nothing more.
Michael: It's a torture museum: famous examples of bad behavior and explanations of the torture they earned.
Jason: Is there a gift shop?
Michael: Jason, this is hell. Of course there's a gift shop.
I no longer doubt whether or not the show can withstand yet another major plot shift, this time sending the humans before the judge. The Good Place has cemented itself as one of the best comedies on television, and I have no doubt it will maintain this momentum.
What did you think of the episode? What will happen to Michael, and more importantly, to Janet? Make sure you watch The Good Place online here and let me know your thoughts in the comments!
Danica Leninsky was a staff writer for TV Fanatic. She retired in April of 2018.