Blindspot Season 1 Episode 16 Review: Any Wounded Thief
Kelly Thompson at . Updated at .
The case of the week on Blindspot Season 1 Episode 16 was by far the worst of the entire season so far.
There was literally no redeeming element to the plot. This is all the time we will spend on it.
What was good about this episode was the personal life drama we got from pretty much every agent.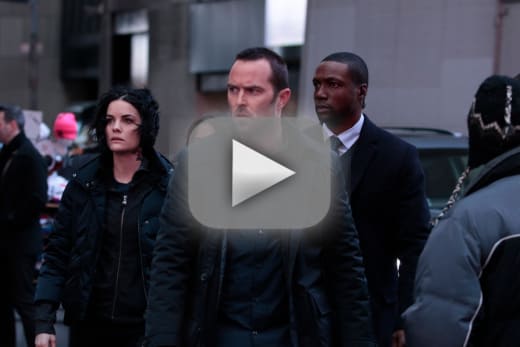 Jane and Weller were being so adorable together. From them joking about Jane stabbing Weller with the chemical gas antidote to Weller giving Jane a birthday present. When Jane asked Weller to get a drink with her, my heart stopped.
Sorry, next time I'll just let your internal organs melt.

Jane
Then he said no and my heart sank. The Weller and Jane drama will obviously be a slow burn, but when they are on screen together, the sexual tension is at an all time high. Plus, I couldn't be less invested in Weller and Allie's relationship.
I'm fine with Weller being with someone else for the time being, but Allie isn't working and they have no chemistry. Now, who does have chemistry together? Oscar and Jane. That's right. They kissed and much, much more. I still don't trust Oscar, but it will be interesting to see where they go from here after sleeping together.
The flashbacks Jane was experiencing piqued my interest. The show needs to share more flashbacks about Jane's past. The tattoo cases can fall very flat, which means we need a break from them. Jane getting more information about her past has always been a gold mine, and there needs to be, no, must be, more of them.
It is interesting that right when the tattoo cases are becoming unbearable, a curve ball was thrown, showing Patterson saying they need to look at the bigger picture. There has to be a connection between everything they are doing. Uh, you think?
Mayfair saying no to Patterson when she asked for more help to find said connection is very telling. While it's completely believable and accurate that the Federal government is much more interested in cost saving ideas, there is more to Mayfair.
Orion is still in play, and that has to be why Mayfair really wants to stop Patterson, right?
Because, honestly, if the FBI can't figure out there is a connection between all of Jane's tattoos and that someone working in the government is involved, then I have lost all faith in them.
Speaking of Patterson, she was dealing with a lot of David drama. He made a reservation for their one-year anniversary and Patterson went and completed the Times crossword puzzle. And there just happened to be a clue in it that told Patterson David figured out another tattoo. Um, what? 
I found the dinner scene between Patterson and David super emotional, and all credit for that goes to Ashley Johnson who has been nothing but wonderful.
Let's rundown through the other major developments:
Zapata started gambling again? That came out of left field, and I'm not a fan.
Jane jumped out of a freaking window to tackle a guy, and it was awesome. But quick question, why does the team never call for backup? They continuously run into potential shoot outs and life/death situations and never once do they request back up. That can't be FBI standard or best practice.
The camera work was crazy good. The use of steady cams and one shots were incredible. I hope this trend continues.
I can't figure out Mayfair. One second she is trying to stop Patterson from figuring out who did this to Jane and the next she wants Reade to continue to look into Carter's death. Does she trust Jane? Is she being a good commanding officer or just looking out for only herself?
What are you're thoughts on all of this? Let me know in the comments below or on Twitter. Don't forget that you can always watch Blindspot online. Until next week.
Kelly Thompson is a staff writer for TV Fanatic. Follow her on Twitter.