We're taking a look at Parenthood Season 5 with the latest TV Fanatic Report Card.
Where does the opening set of episodes rank? What worked? What failed? What really failed?
We rate various developments and character below and then chime in with an overall grade to this point for Parenthood Season 5...
--------------------------------------------------
Best Episode: When Parenthood Season 5 Episode 1 was over, I felt like the season was going to be fantastic. In my review I noted it felt as if the writers were less constrained by the knowledge they would have a shorter season. Crosby and Jasmine were squabbling, Kristina decided to run for mayor and Ryan proposed to Amber. Those seem like the good ole days now.
Best Character: Crosby. He's the only Braverman left who is still true to form and enjoyable. He's always comic relief when it's desperately needed and his relationships with his children, his brother and even his niece are admirable. Whether it's standing up to strangers in a restaurant who eyeball his colicky baby Aida while she openly cries or asking Amber if Ryan has every physically abused her, Crosby's motives are never in question. Thank goodness.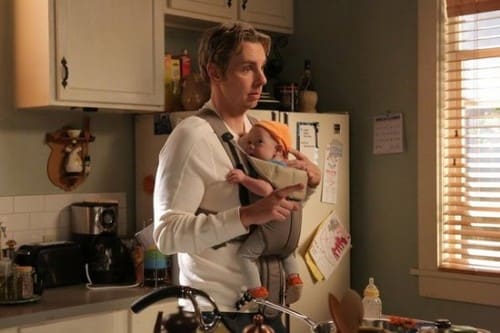 Most Disappointing Character: Joel Graham. It's completely understandable that someone might get finicky when they switch roles with their spouse, but to completely abandon their entire persona is not. His character was assassinated. Viewers can say Julia is to blame for their marital problems, but she's always been awkward, self-centered and tough. Joel was kind, caring and family oriented. That man is gone.
Most Disappointing Story: The handling of Amber and Ryan's "love story" was tragic. It fell apart because they didn't know each other, refused help or advice of any kind and had no ability to communicate. Amber blindly ignored warning signs and somehow viewers were expected believe it was a sweet story of young love. Instead it was a cautionary tale about jumping the gun.
Worst Episode: Parenthood Season 5 Episode 7 started the setup for the fall of Amber and Ryan, but that was just a tiny bit of an installment where it finally hit that all of the life had been sucked out of Parenthood. Talk about depressing.
Overall Grade: C Looking back at the reviews, the individual grades are higher. When taken as a whole, the season just doesn't measure up. It's not the Parenthood that people tuned into to join the Braverman family. Your grading was on par, mine was overly hopeful.
Hopes for 2014: It's time to get some perspective back on the characters everyone fell in love with and stop crushing them with artificial plot points to create drama. There has always been plenty of drama without assassinating the beautifully written characters for who they were. If they are going to change in the future, there has to be a catalyst for change or a slow burn. My hope is the ship is righted and it steers clear of the iceberg before it sinks for good.
What about you? What grade would you give to Parenthood Season 5 so far?
Carissa Pavlica is the managing editor and a staff writer for TV Fanatic. She's a member of the Broadcast Television Journalists Association (BTJA), enjoys mentoring writers, wine, and passionately discussing the nuances of television. Follow her on Twitter and email her here at TV Fanatic.