Wow. The twists, turns and revelations aren't exactly in short supply on a regular basis, but Revenge upped the crazy ante with one of its all-time episodes Sunday. A true game-changer, "Illusion" had it all.
It's amazing that a show where so much transpires every week can still find that extra gear when it needs to. Give the producers and cast a round of applause for this one ... once your heart stops pounding.
What else would you expect after the sham wedding of Conrad and Victoria, Emily making her boldest move yet, the Initiative responding in kind and her identity being discovered, all in the last half hour?
If that's not a Revenge All-Star opportunity, to quote Nolan Ross, what is?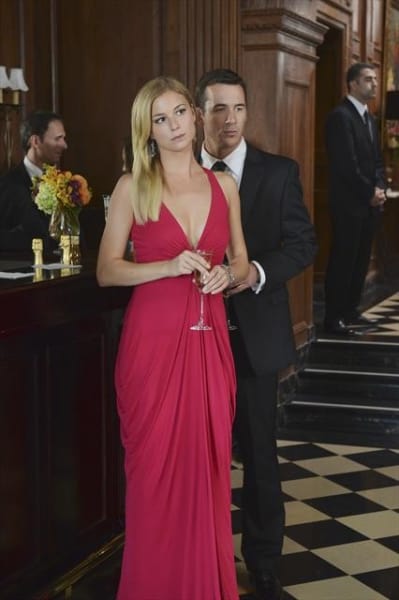 If you wondered for weeks what Emily did with WHM's body, there's your answer. We've seen her go to great lengths in her quest for payback, but preserving a corpse and framing Conrad on his wedding day?
Impressive stuff, Ems. Aiden's knowing look after the FBI raided the event said it all.
Speaking of our girl's dashing partner in crime, he's really coming into his own as a character. You can tell he relates to her in terms of their unrelenting desire to triumph over those who caused her anguish.
Whether their respective endgames diverge, and how deeply their feelings are explored remains to be seen, but it sure looked like tonight signaled the beginning of a romantic relationship between the two.
Revenge does a consistently great job of keeping Emily Thorne human. Even on nights when she dons the black hoodie and does her worst, there's an innocence and vulnerability just beneath the surface.
Expect that complexity to manifest itself even more with Aiden in the picture, along with her other two male admirers. Daniel clearly still has a thing for her, and Jack? How's she going to react to that?
We'll get to the smitten Mr. Porter in a moment, but first, a brief rundown of the developments Emily's framing of Conrad - impeccable as it was from a criminal standpoint - unknowingly set into motion:
The Initiative is in planning mode. Having sprung Conrad on bail hours after his arrest, the mysterious organization revealed there is a new mission and the Grayson patriarch is now a participant.
Kara Clarke is devastated. Not exactly a stable individual on her best day, Emily's mom promised the Graysons would get what's coming to them. This was before she knew her beloved Gordon was even deceased. It's surprising she didn't go Single White Female on Victoria tonight ... don't rule it out in the near future.
Mason Treadwell knows. Already suspicious of Amanda, the light bulb went on after that throwaway comment from Victoria, and confirmed on his Beautiful Mind-style bulletin board. He knows.
Physics dictate that every action causes an equal and opposite reaction. Or three, in this case.
Mason is going to have to be dealt with, and promptly, as the exposure of Emily's identity and motives could cause everything else to unravel. He's a formidable foe, but don't bet against those steely eyes.
Kara and The Initiative? Both total wild cards in their own, sociopathically insane way.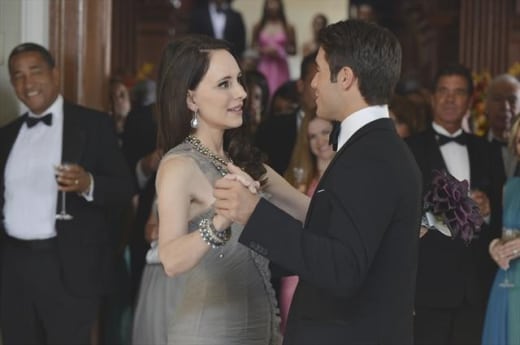 We learned some additional things in "Illusion," and not just that Emily VanCamp looked amazing in that red Alexander McQueen dress, or Madeleine Stowe in her Vera Wang (the black bouquet was a classic touch).
There's definitely more to Ashley than meets the eye, and Aiden is clued into it. Whether he knows more than he's letting on is unclear, but there should be a major Ashley reveal in our future. As for her boyfriend, Daniel is more his father's son than he'd probably like to admit. Emily hit the nail on the head there.
His struggle for power against Conrad will be fun to watch, particularly given his surprise release from jail and the lingering issue of Grayson Global's potential controlling interest in a certain telecom giant.
Meanwhile, Nolan implored Padma to protect NolCorp at all costs after her ill-advised inquiry into David Clarke's contract. This was almost an afterthought tonight, but should rear its scandalous head again next week.
Finally, Jack and Declan both got haircuts! Plus the Stowaway is finally reopened!
Oh, and Dec got back together with Charlotte and Jack got engaged to Amanda.
Aside from Kenny Ryan continuing to set them both up, it was a good night for the Porters. Jack and his bride-to-be did seem smitten, but there's no way it can last, right? This is, after all, FauxManda. The feelings may be real, but at some point this is going to reach critical mass and the fallout could be pretty spectacular.
And speaking of Kenny ... that guy has body-in-the-ocean-off-Block-Island potential.
All in all, Revenge just keeps getting better and better. The writers never cease to expand the narrative with surprising new twists, while the characters anchor the show, keeping you invested more every week.
How will Emily deal with Mase? Should she and Aiden hook up? What will happen with the Initiative? How and when will Kara snap - or actually recognize her real daughter? And will Jack and Amanda actually tie the knot?
Take a look at ABC's promo for next Sunday's "Exposure" and comment below:
What did you think of this week's Revenge? Discuss!
Steve Marsi is the Managing Editor of TV Fanatic. Follow him on Google+ or email him here.