Jim's Notebook: Open to The Vampire Diaries, Revenge and More!
Jim Halterman at .
Welcome to the latest edition of Jim's Notebook.
This week, it gets emptied out with everything from serial killers and a Kardashian to Revenge spoilers, Vampire Diaries intel and - because I'm still a teenager trapped in a man's body - a deconstruction of sitcom fart attacks...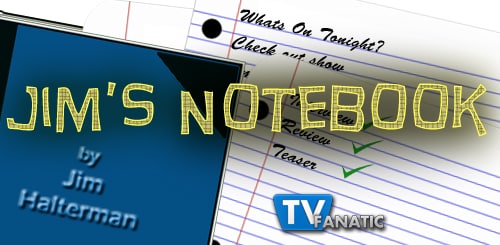 BONES I love a good serial killer, so it was good to know from Executive Producers Hart Hanson and Stephen Nathan on yesterday's press call that demented Christopher Pelant will be popping back up soon.
"The Pelant story will reappear in January," said Nathan. "Pelant is always going to be kind of hanging over their heads in all of the episodes but he comes back in earnest…we're actually shooting the episode now and it will air in January." Hanson added, "It's being directed by Rob Hardy and it's one of the biggest episodes we've ever shot. Very exciting…we're starting to talk about what our season ender will look like and he may or may not be a part of that."
Also, watch for the new love interest for Cam to pop up in #805 "The Bod In The Pod," which airs November 19. The producers wouldn't reveal who, but sounds like it will be a familiar face.
The pair did confirm, amidst laughter, that her new love interest is NOT a corpse, which would make it more of a nod to The Walking Dead.
REVENGE Executive Producer Melissa Loy gave me the lowdown on Revenge Season 2, but how hard was it to jump into the new season after such a stellar opener?
"I think every time a show like ours ends a season, or sometimes an episode for that matter, and there's a cliffhanger like we did in season one, we need to pay it off, we owe that to our fans," she said. "Making sure that we do that the right way in season two is a big priority and a challenge for us. I think that's probably been the biggest and to sort of reset everything for our audience in season two, especially since the world got a little bit bigger and we introduced a few more characters, making sure we serviced all those people in the proper way."
THE X FACTOR Simon Cowell is known for his biting critiques, but he also is a man who knows how to give praise, as he did earlier this week to new mentor Britney Spears.
"I think she's been a lot better than everybody thought," Cowell told the press. "She's very engaged. I was with her yesterday and she's very, very into her contestants. She thinks she can win the competition."
And is Cowell ready for new co-host Khloe Kardashian to bring a piece of her own mind to the show?
"I encourage that. I like that. They're there to have opinions and I think it was lacking last season. The host [Steve Jones], he didn't seem to have an opinion on any of the performances and I think it's important with hosts that they are allowed to pitch in as well as the judges. If they disagree with the judges, they're entitled to say something."
How do you think Khloe did on her first week on the job? Leave a comment here and give me YOUR opinion!
THE VAMPIRE DIARIES You may have read the bulk of my Julie Plec interview yesterday, but I also asked her if we might get any more heat between Caroline and Klaus.
"It would take something pretty spectacular to drive too deep of a wedge between Caroline and Tyler, but that certainly does not mean that Klaus won't be doing everything he can to get his claws, so to speak, in terms of sabotaging their relationship," she said.
Watch for a "surprising escort" for Caroline at this year's Miss Mystic Falls Pageant, Plec teased.
Finally, we know Bonnie's dad is coming - but will his arrival be a good or bad thing for her?
"It's good in that finally after all this time of kind of rejecting the town's supernatural issues and his own daughter's supernatural legacy, he's finally willing to engage in her life and be there for her," Plec said, reiterating that these are still high school kids who don't have a lot of parental guidance.
PARKS AND RECREATION I'm still laughing about last week's Halloween episode and to prove I basically have not grown up one bit, I had to ask co-creator Michael Schur about what I called the 'fart intricacies" of Jerry's fabulous fart attack.
"We probably spent 10 or to 12 person hours working on the farts," he told me. "The sound of them, the volume, the style and that includes a lot of time in the edit bay getting it right and then in the sound mix we changed stuff."
But who knew there was such a thing as 'fart overlays?!'
"There were three different entire fart overlays that we looked at," Schur added. "We ended up going with version three, which is a hybrid of versions one and two. I mean, it was a very intensive work session and it's because it's a very important moment in the life of the show... you only get to do a fart attack once and we just wanted to make sure that we got everything done right."
That's a wrap! Time to close my Notebook for now. Anything else you're dying to know about your favorite show? Leave a comment here or you email me directly at jim@jimhalterman.com. And remember: get all your TV scoop by following @TVFanatic.
Jim Halterman is the West Coast Editor of TV Fanatic and the owner of JimHalterman.com. Follow him on Twitter.