Jim's Notebook: Psych Sings, Revenge Shoots, Dallas Returns
Jim Halterman at .
This week, I empty out my Notebook with some intel on the upcoming Psych musical episode... Revenge's kick-ass midseason finale... and that other fab prime time soap, Dallas.
Let's do this!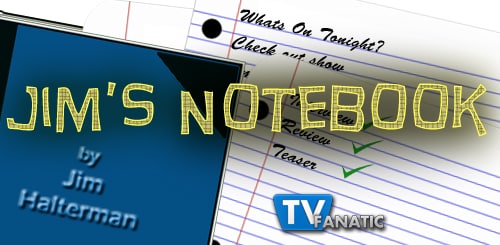 Psych: The musical episode finally arrives on Sunday and creator Steve Franks marveled earlier this week on the tireless effort of his stars, James Roday and Dule Hill.
"I can't begin to tell you how many takes we did of these enormous dance pieces that went up and down stairs and were jumping and leaping," Franks said. "It was a very, very difficult lip synch that these things were pretty flawless throughout the whole course of the thing and hitting all the steps. I can't begin to tell you how tired I imagined they were watching them. And not only were they willing to do another take, often times I'd yell, 'Cut' and they would just immediately say, 'Let's do another one.'
Roday and Hill weighed in, too, complimenting the efforts of Franks and his team.
"After all the work that Steve did just to get us there," Roday explained, "there was no way that we weren't going to step up to deliver the goods. I think he wrote 37 original songs which he narrowed down to 21, which he narrowed down to 12. He wrote the whole thing. He conceived it. He composed it with Adam Cohen and he directed it. I mean it was a gargantuan, Herculean task that he took on."
Hill added the most daunting part of the experience was the lack of time.
"I think if we'd known we got an extra five days to do, then maybe it wouldn't seemed so big for us, but the fact that we were doing a two hour movie special with music and all those things, new songs by Steve Franks and everything in the same timeframe as it took us to normally do a normal episode, which we already have trouble making anyway, that was daunting!" The good news is I've seen the episode and it's pretty damn amazing what they pulled off!
(Psych: The Musical airs Sunday at 9/8 on the USA Network).
Revenge: A soap staple may be bringing back people from the dead, yet was I the only one who gasped when the supposedly six-feet-under Lydia turned back up on Revenge Season 3?
Executive Producer Sunil Nayar said he and his staff didn't stress much over explaining Lydia's return from the grave, explaining: "We wanted to bring Lydia back from the moment [the writers] got together at the beginning of this season because she's just great and we thought, 'well, Victoria got off the plane.' It doesn't require a whole lot of explanation and people don't need a whole of back story as to how it is Lydia is still alive."
Expect Lydia to stir things up in this Sunday's Revenge Season 3 Episode 10.
Teases Nayar: "We just love Amber and we love what she brings to the show and we thought the best time to do it would be as we got up to the shooting episode and the aftermath of it that she brings in such a great element of chaos with her and she becomes such a great suspect for what's going to happen and she brings Conrad into the story in a way that we haven't seen before either. So she just seemed like a no brainer really and we were very fortunate she was available and willing to come back."
(Revenge airs Sundays at 9/8c on ABC; watch for my episode post-mortem first thing Monday morning, too!)
Dallas: The soapy drama doesn't return for Season 3 until February 24, but Josh Henderson is excited for the new episodes. I had to ask with JR gone (after last year's passing of Larry Hagman), does John Ross have a father figure to look up to?
"He definitely is not getting a lot of guidance. He's almost not even open to it," Henderson told me. "Even if he doesn't know the best move or the best thing to do, he likes to act like he does or makes you think that he does. So, he's not going to Bobby for advice really."
In fact, watch for John Ross to also focus on his own plans and not the family when it comes to Ewing Global (the new name for Ewing Energies).
The actor, who does an impressive amount of social media outreach with his and the show's fans, said that he's hearing a familiar name when he travels outside the U.S.
"We did a trip to France over the summer [and] they yelled JR! They literally yelled JR!" He added that it might catch him off guard sometimes but he loves it. "I do enjoy it and I love the fact that I'm being able, obviously, to be a part of history when it comes to television history." 
Jim Halterman is the West Coast Editor of TV Fanatic and the owner of JimHalterman.com. Follow him on Twitter.