Californication Review: Goin' Back To Cali

Chris O'Hara at .
Season five of Californication opened with Hank and Carrie discussing an entirely different kind of opening. One might say there definitely was a "hole" in the storyline of "JFK to LAX," but it only served to make the commencement of the new season that much better.
Sadly for Hank, poor man's Steve Nash slammed shut the Escalade door before he could get his new love interest Kali's number. The somber moment was short-lived, though, as Hank was quickly greeted by his dearest friend and agent. It was great to see the literary lizard king and tissue assassin back together, but was anyone else half expecting Runkle's son to tell Hank the human head weighs eight pounds?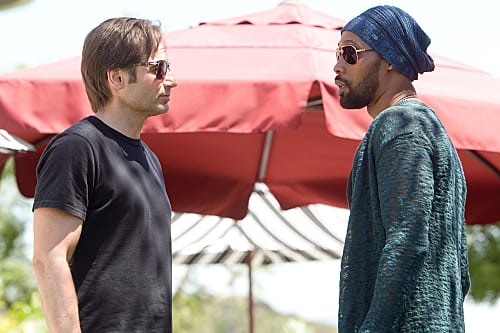 Hank described Karen to Kali as his own brand of heroine and, like a true junkie, the first thing he did after landing in Cali was go looking for a fix. While I have always shared in the awkwardness Hank feels when around one of Karen's love interests, I have to say I did kind of like that she married Richard Bates. I don't know if "awesome" was the right word to one up him on Hank with, but after hearing his Dexter-esque plans for Becca's boyfriend I, too, could not help but like the guy. As if his famous serenade where he told everyone to blow on his dice while in the nude wasn't enough of a reason already. 
And what about this "spirited" suitor of Becca's?
Tyler drives fast, talks faster and seemingly woos any woman he meets. So how could we not like a guy who, as Karen stated, is so obviously a younger version of Hank? Something about him just did not sit right with me. Perhaps it's because we've all watched Becca grow over the years and we only want good things for our little rock star.   
When it comes to his daughter some things never change for Hank, and thankfully his time away from his loved ones didn't tarnish his silver tongue or dull his quick wit. From the Fatal Attraction reference to his mile high montage of flattery, the old boy was in mid season form from take off.
Overall, I thought it was a solid premiere, which featured all the main characters and introduced us to a few new ones that will no doubt provide some intrigue this season. Meagan Good lit up the screen each time she was on it and Rza just set it on fire. I am not going to blame Hank for taking another run at Samurai's lady, but when he does I hope he knows to "Protect Ya Neck!"