Midnight, Texas Season 1 Episode 8 Review: Last Temptation of Midnight

Lisa Babick at . Updated at .
Goodbye, Xylda
On Midnight, Texas Season 1 Episode 8, Xylda finally admitted there was a reason she wanted Manfred to go to Midnight. It wasn't a big surprise that she knew about his destiny, but the secret was what tethered her to the RV.
Once she shared the truth with Manfred, it was time for her to move on.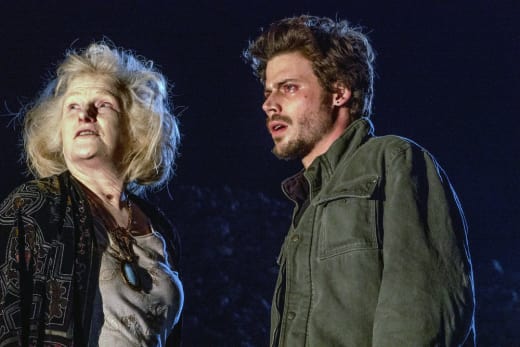 The moment made me a little teary-eyed, but not as much as watching Xylda end her life because she was dying of cancer. It's difficult to watch someone you love die, but Xylda was able to do it on her terms before it got too painful to bear.
Manfred didn't like it too much, who would, but he didn't try to stop her. Still, Manfred didn't have to live with the loss of his grandmother until she literally left him at the side of the road in the middle of the night. She had done her duty. Now it's time for him to do his.
Xylda had done a good job of convincing Manfred to go back to Midnight. She explained what he was meant to do. Of course, he wasn't going to like it very much, and I have to wonder had Xylda not gone to the other side if he would have returned to Midnight.
I get the feeling that perhaps he's doing what he's doing as a way of honoring Xylda. And that's okay if he is. There's always some sort of motivation in the things we do.
Of course, another source of motivation is probably Creek, and that's okay too. As long as Manfred returns to Midnight to ride out his destiny, that's all that matters, but I like the idea that he's doing it for Xylda better.
It wasn't necessarily a surprise that Xylda planned it out (it was a plan, right?) for the demon trucker to show up just as she left. Manfred didn't know it was part of the plan, but it didn't take him long to realize what was going on.
When he jumped out of the truck, he could have kept running and never look back. He almost did it when the RV ran out of gas. And who could blame him?
It was overwhelming for him to hear from Joe that he was supposed to be the savior of the town, but hearing it from his grandma made it all the more real.
It's a lot of responsibility.
And although being the town savior isn't the reason why Manfred left, it was good to see him make the right choice despite what happened between him and Creek.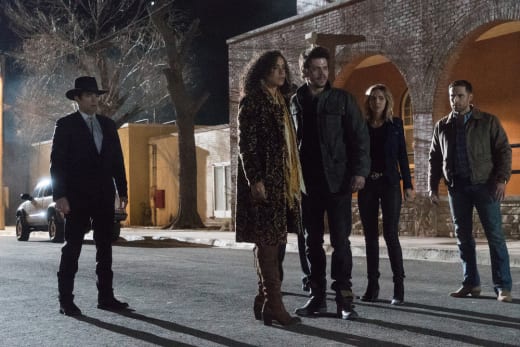 The faceless demon was freaky, especially with the claw on his hand, but he wasn't very smart. If all the demons are going to be like that when they come through the veil, then the Midnighters don't have much to worry about.
Still, I was proud of Manfred for doing what he did even if he wasn't sure he knew what he did and how he did it. Manfred may still be a bit wobbly, but he's showing everyone just how much of a hero he can be.
Manfred isn't the only hero in town. Fiji was a hero, too, having saved her friends from doing horrible things to themselves and each other.
Her potion saved Creek from killing herself, and it also saved Lem from forcing Olivia to turn when it wasn't something she wanted to do.
It was frightening to watch Lem become so violent towards Olivia. I'm not sure if they'll be able to recover from this. It will be sad if they do, but Olivia has every right to banish him from her life.
She doesn't want to be turned into a vampire. It doesn't matter what her reasons are, it's not something she wants to do, and she shouldn't be forced to.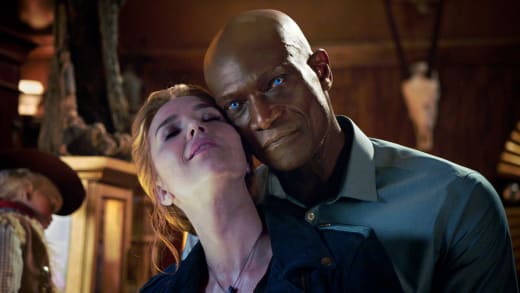 If Lem loved her as much as he claims, he'd drop it already. Maybe she'll come around later, but it's her decision to make, not his.
I understand that he was influenced by the big, bad demon (who now has a name: Kokonu), but that still doesn't give him the right to force himself on her. 
I love that Olivia knows how to protect herself against Lem. She has all sorts of tricks up her sleeve which further points to what a badass she is. She held her own against Lem during their epic fight, and I wish she would have kicked his ass into the bathtub, but that's not how it played out.
Under different circumstances, I would put my money on Olivia. Lem was just too powerful in full force vampire mode.
Luckily, Fiji's potion worked on Lem and returned to normal, but the damage was done.
Kokonu and the rest of the demons are on the way as the veil gets thinner and thinner, but Manfred is back in town and is ready to fight even if it means losing his life.  
What did you think of "Last Temptation of Midnight"? Are you sad to see Xylda go? Are you proud of Manfred for doing the right thing?
Hit the comments and share your thoughts.
There are only two episodes left! If you need to catch up, you can watch Midnight, Texas online right here via TV Fanatic.
NOTE: Midnight, Texas Season 1 Episode 9, "Riders on the Storm" will air this WEDNESDAY, SEPTEMBER 13 at 10/9c on NBC. The season finale of Midnight, Texas will air on Monday, September 18 at the same air time.