From Dusk Till Dawn Season 3 Episode 5 Review: Shady Glen

Allison Nichols at .
Who knew that eating bath salts would turn you into a cannibal!
On From Dusk Till Dawn Season 3 Episode 5, the Geckos and company take a trip to Shady Glen, a peaceful neighborhood in the suburbs. The Geckos have never seemed more out of place, and it was absolutely hilarious.
It could have been really funny to watch Seth and Richie try to calm the herd of townspeople, but I'll settle for them letting Reuben tag along. Plus, we got to experience Seth act as a leader by getting everyone to work together, even if it was for five minutes.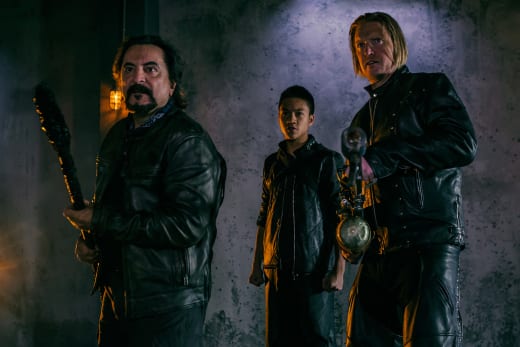 Did anyone else enjoy Ximena's reaction to Seth reluctantly taking control and getting everyone to shut up? She did this little smile, and it was adorable. 
We've always known that Seth has his own moral code that, granted, is slightly different than a the moral code of a normal human being, but it's there. It was great to see both him and Richie upset that civilians have been dragged into this fight.
Scott: Nah, dude, I'm not going to be your research monkey. I'm here to slay some cannibals.
Freddie: Hey, these people have families. This isn't a fucking video game.
Scott: Yeah, and I eat these people to survive.
Sex Machine always has answers to some question we didn't even know we had yet. It's one of the only reasons I tolerate his existence on the show, but I liked that he was partially stumped during the plague of the flying scorpions.
It's not believable for him to know everything about every historical Xibalban that hasn't been seen in thousands of years. He had to go into researcher mode, which is what he does best - well, that and being a total creep.
Burt has been a great foil for Sex Machine. Burt learned things through experience, while Sex Machine got all his knowledge from books.
Also, can I just say that bath salt consumption is probably the worst cover up I've ever heard of. I mean who is going to believe that?
Next one that pipes up gets a stake through the heart - reptile, regular jackass, I don't really give a shit.

Seth
One thing that really annoyed me about this hour was that there was not one mention of what happened on From Dusk Till Dawn Season 3 Episode 4.
Hello, we learned that Kate is a 100% alive. Amaru almost killed Scott and Seth, and yet it was business as usual.
Okay, so Scott's now voluntarily hanging around the Geckos and helping them out. This shows that some kind of discussion happened, but we didn't get to see it.
It would have been amazingly heartbreaking to watch everyone come to terms with what just happened. Seth gave up on Kate, and then she begged him to kill her. Richie and Freddie didn't hear the exchange between Kate/Amaru and Seth.
It could have been interesting to watch the two of them try to get information out of Scott and Seth as to what happened. This was a missed opportunity for some great character development.
The only direct connection to the previous hour was Burt's presence and Dakota shooting Richie.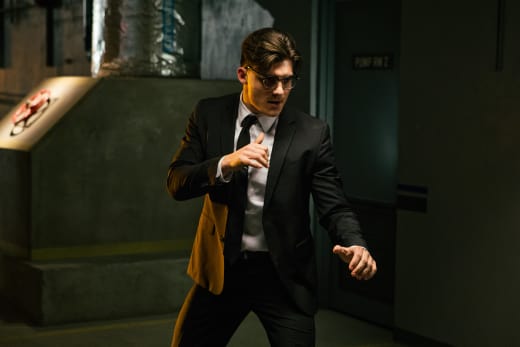 Dakota made Freddie remember that he has his mentor's killer on speed dial. I'm sure Freddie hasn't forgotten about what happened in that gas station, but he has had to put it on the back burner because in the grand scheme of things, it's better for him to work with the Geckos than try to kill them.
This season, Freddie has worked side by side with the Geckos. They are speed dial buddies, and they rely on each other in a fight. Whenever something's up, they always notify the other.
It makes sense that Dakota would get Freddie to go a little bit crazy and fight Richie. Dakota hasn't forgotten who the Geckos are, and she made Freddie feel like he had.
Still, I'm hoping that this animosity doesn't continue for too long. We've done the revenge seeking Ranger bit, and while it made sense to bring that hatred back, it doesn't mean that we have to completely revert to a previous dynamic.
Seth will probably kick Freddie's ass into high gear whenever he discovers that Amaru has Richie. Any theories on what Amaru is going to do to Richie?
What did you think of the episode? Are you shipping Ximena and Freddie? Leave your thoughts in a comment below.
Remember you can watch From Dusk Till Dawn online anytime via TV Fanatic.