Minority Report Season 1 Episode 1 Review: Pilot

Henry A. Otero at . Updated at .
The series premiere was super sleek, action-packed, fast-paced and introduced a likable cast. It wasn't perfect, but what pilot is?
I've read several early reviews that dismiss Minority Report Season 1 Episode 1 as your typical procedural. Seriously?!? You've got a psychic solving crimes before they happen. How many times have you seen that on NCIS or Criminal Minds? Like the Philip K. Dick short story and Spielberg's film before it, the show's premise is quite unique.
I instantly bought into this future world, it felt real. The family angle and following the precogs lives should prove fascinating. I'm in!
Tom Cruise killed it as Chief of PreCrime John Anderton, but the movie wrapped things up rather neatly. He was accused of a murder, the precogs had a different vision (minority report), Anderton proved his innocence and the program was abolished. The only true question mark at the end was, what happened to the Precogs?
Well, that's where the TV series picks up and it's the heart of the story. The cold open summarizes the film's events pretty well. Unfortunately, precognition isn't one of those things you grow out of. Dash witnesses a young woman's murder and decides to intervene.
I liked the visuals for Dash's flashbacks, as well as the fact the series is less desaturated than the film. How about that train, eh? Dash (Stark Sands) is a compelling lead, equal parts manic, clever and childlike. You could feel his pain when he didn't make it in time to save the waitress. Det. Vega's (Meagan Good) introduction was fun, as she played out the events of the murder. Yeah, I liked this duo.
Vega: Can you believe we used to stop this stuff before it happened?
Akeela: Unfortunately, PreCrime was way before our time girl.
The pacing in the first half was spot on. I mean, Dash and Vega met in the first 10 minutes, which wasn't bad. However, the second half of the hour was messy and rushed. That selfie drone was silly too, we could have done without that.
Though our leads are both good lookin', there's no real hint of sexual attraction. That's such an overused trope and partly to blame for Sleepy Hollow losing its way. Dash is too tortured and naive to worry about that kind of stuff. Let's solve some crimes and leave the hookups for Season 5, right? Speaking of which, Blake (Wilmer Valderrama) and Vega clearly have a history. Will she come clean about the precog? I'm curious to see how things play out.
While the "Halo burn" stuff made sense, the pilot was starting to pile info on thick. That scene delivered a little too much exposition for my taste. Our heroes tracked down the face on Dash's drawing and strapped on their jetpacks. Sure, they're cool guys but also completely unnecessary in that scene. I will say I enjoyed Blake's line about closing the case, which Valderrama mentioned he ad-libbed in this interview.
Agatha popped up and scolded her little brother about being an action hero.
Dash: You know how much I see out here. If I can just get to one in time.
Agatha: You can't. You know that. Your gift is incomplete without your brother.
Of course, Agatha gets the most detailed visions. How much does she know and how involved will she become in her sibling's affairs? She already warned Dash that Vega will only use him. Is there any truth to this? Once Vega located the precog at the burger joint, I got the impression she was sincere. Det. Vega seemed thrilled to meet him and we learned she lost her father in the line of duty. For now, I choose to believe this partnership is real.
The Mayor was a bit of a jerk, wasn't he? After everything the precogs sacrificed, referring to them as "genetic freaks" just wasn't cool. "You lose by a landslide" Dash blurted out. Wasn't that a fun moment? Is it me, or are the visual effects on par with the 2002 film? Of course, I haven't seen it in years, but technology's come a long way, and the show looks absolutely amazing.
You didn't have to be a precog to know that Rutledge's daughter was involved. To the folks complaining the pilot was predictable, I'll give you that one. Also, the whole pigeon thing was pretty lame. Not a fan of that at all. I'm hoping the cases become much more intriguing and that the writers explore things you wouldn't see on any ol' cop show. The pigeon poop whisper bit was great stuff.
Seeing Wally (Daniel London) was a blast, and I understand we're going to see more familiar faces from the film. I wouldn't hold my breath for Tom Cruise. I think the Dash/Wally relationship is going to be a highlight of the show.
Wally: They used to say you were the weak one. Agatha would get the bigger picture. Arthur got the names. You just saw bits and pieces of little things the others missed.
Vega: Missed?
Wally: They covered it all up after the program fell. Wanted so badly for their precogs to be perfect. They never could accept one little inconvenient truth.
Vega: What truth?
Dash: For PreCrime to work, the public needed to believe that the murders we saw were destiny. That people couldn't change their futures.
Wally: The dirty secret was, that even the three precogs didn't always see the future in the same way. Outlier visions.
Dash: They were filed in minority reports.
So Wally tortured Dash a bit, and the visions began making sense. Infected pigeons to start a plague, eh? I'm not sure we needed to check in with Arthur. Didn't that scene feel a little forced to you? Don't get me wrong, I like Nick Zano. It's just that things got too damn messy. Also, originally Stark Sands was supposed to play both brothers à la Orphan Black. That would have been cool. I wonder why they hired another actor.
Anyway, Arthur's interesting and far more street smart than his little bro. Moving forward, I'm sure his involvement will fit more organically with the storytelling. With so much jam-packed into the pilot, it's no wonder Rutledge was caught ridiculously quickly and the birds stopped. Though I wasn't impressed with the closing moments, I did not expect Dash to kill the old man. Vega killed the daughter as well. There's a twist that worked, and how will it affect our heroes?
Pilots are always tricky to get right. They're basically a tool used to sell the show to a network. That said, I have a feeling that upcoming episodes will be smoother and there will be an overarching mystery. The possibilities excite me and I'm on board for the season. How about you?
What did you think of the Minority Report Premiere? Was there a little too much going on? Did you like the cast? How about the first case, cool or not so much? Go ahead and sound off in the comments below guys.
Want to check the pilot out again? Watch Minority Report online via TV Fanatic.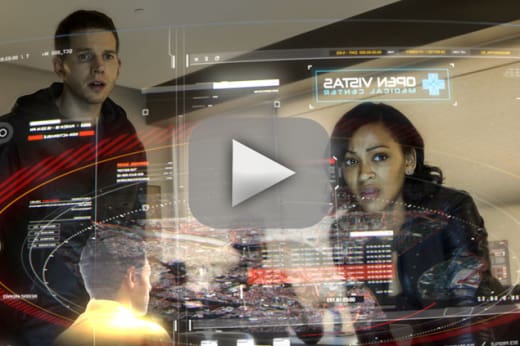 NOTE: Minority Report Season 1 Episode 2 is titled "Mr. Nice Guy" and airs on Monday, September 28.