After just four weeks of laughter and adventure, the season finale of Galavant is here.
Galavant Season 1 Episode 7 and Galavant Season 1 Episode 8 offer a finale that is entertaining, but one that leaves us with little closure. The good news is that this leaves us wanting more – and I want to see a second season! Don't you?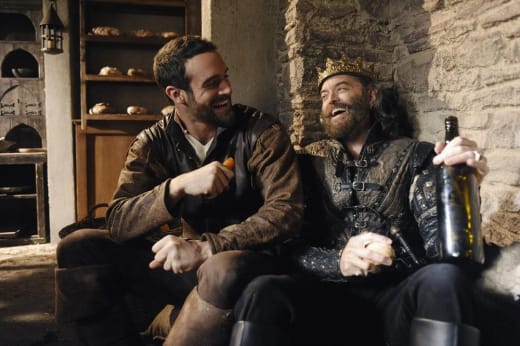 For Galavant, the story continues to be one where he learns about himself. He learns to give up his pride, for one thing. He also realizes that lessons from his father aren't the ones he should live by, and it is actually a good thing to have feelings. That's good news, because it means we finally get the moment we've all been waiting for between Galavant and Isabella. They finally kiss (it took them long enough), but then Gareth promptly knocks Galavant over the head.
By the way, Galavant's father is played by Anthony Stewart Head (Buffy the Vampire Slayer). He even sings! My only complaint is that there isn't enough of him. Still, it's a fantastic guest appearance.
Your moment of glory will come, young Galavant. Be patient, be ready, and also, never get married.

Arnold
Speaking of guest appearances, Kingsly, King Richard's brother, is played by the amazing Rutger Hauer. But the guest appearances aren't nearly as important as the story, the jokes, and the music.
The show references itself by commenting on the musical numbers and Galavant's habit of speaking about himself in third person. It also continues to find its humor by reminding us of our current modern time period. And poor Galavant keeps getting interrupted when he tries to sing about his moment in the sun!
My favorite moments from the finale, though, come from King Richard.
I've spent a lot of time talking about character growth for Galavant, but King Richard has also grown in a lot of ways. In fact, he even decides that, rather than choosing a champion to fight for him against his brother, he will fight his own battle. Sure, he's still very silly and completely misguided, but at least the guy is trying. Between that, his weaknesses, and the appearance of his terrible brother, it's hard to even see King Richard as a villain any more. In fact, Madalena is a heck of a lot worse than he is.
I like the idea that King Richard and Galavant are sent off together in the end, especially since their scenes together in this final episode are so fun to watch. Having the two enemies become friends certainly gives potential for some interesting things in the future. King Richard even says they are "frenemies."
This is also when King Richard reveals a redeeming factor about himself. Galavant is surprised to learn King Richard is a virgin, especially considering the fact that he is married to Madalena. He's even more surprised that King Richard hadn't insisted.
I'm not an animal. I mean sure, I'll kidnap a woman and force her to marry me. But after that, I'm all about a woman's rights. I'm a modern 13th century man.

King Richard
Overall, the first season is definitely entertaining and offers great storytelling. What is missing from the finale, unfortunately, is closure. Of course, leaving us wanting more will make it even better if the show is renewed, but with the way this story is told, it should have more of an ending than it does. Barely anything is resolved, and we're left with more questions than we are answers.
What's clever about that is the finale song, which even goes to far to mention Neilsen ratings and a question of whether or not the show will be renewed. That's pretty brilliant, if you ask me.
What about you, Galavant Fanatics? Did you enjoy the first season of Galavant? What did you think of the ending? Be sure to share your thoughts in the comments below!
Want to see the whole thing over again? You can always watch Galavant online via TV Fanatic!
Ashley Bissette Sumerel was a staff writer for TV Fanatic. She retired in September 2017. Follow her on Twitter and on Google+.