Forever Season 1 Episode 5 Review: The Pugilist Break
Paul Dailly at . Updated at .
Jo had dinner with Henry and Abe on Forever Season 1 Episode 5 and it wasn't as comical as you would expect.
Every week I keep preparing myself for a disappointing case, but I'm happy to report that didn't happen this week. The story with Raoul featured thrilling twists and turns right up to the final act.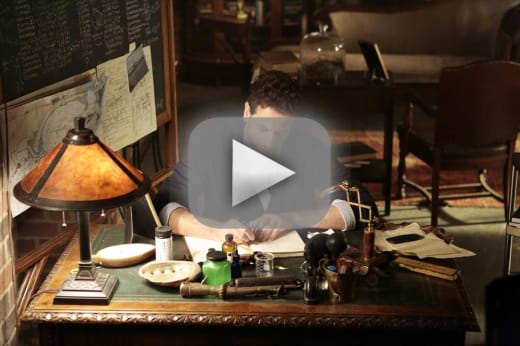 Abe continued to amuse. I know how I'd feel if someone attempted to sell off my belongings without my knowledge, but Abe does it in such a nice way by making you think you don't need it anymore. Henry has raised him well!
Yet again, there were no new developments on the stalker front. I understand the need to not give too much away so soon, but we've had nothing the last three weeks. I want answers!
The crime scene was vile. Poor Raoul had turned his life around after leaving jail. He even managed to stop taking drugs. It's really sad. I can't believe he was left there to be chomped on by rats.
Lucas continued his illegal ways. This week, he operated on one of the rats from the crime scene. I find myself questioning -- why is this guy still employed? It's like his sole purpose every week is to make things go wrong.
It was a really slick move to introduce a large number of suspects. It's always good when you don't figure out truth before the end of the episode. This was the first hour that I genuinely didn't know what was happening until it all went down on screen and it kept me on my toes.
The installment featured themes of social conflict, with the rich wanting the poor out of the city. I'm sure I can say that we are all relieved the rich didn't win. 
Delgoros is nothing short of a rat. All he cared about was money and It was refreshing to see his mistakes catch up with him. Did anyone else cringe when Henry asked to buy some heroin and was subsequently arrested? It's little scenes like this that make me realize why I love the show.
I wish to purchase heroin

Henry
The aforementioned dinner was intriguing. When they were toasting to family it made me realize that we don't know much else about Jo's family. Sure, we found out she was brought up in a rough area and her dad was bad news, but it'd be good to at least meet someone else who knows her. A high school reunion whodunnit sounds like a good storyline for her!
It really shocked me when ABC didn't announce a full season pick up for the series along with the other two freshman shows they picked up as Forever is on fire creatively. Obviously there are other factors than just quality, but we can only hope ABC won't be cutting Henry's story short any time soon.
Remember you can watch Forever online right here on TV Fanatic if you missed anything.
What did you think of the episode? Do you agree about Lucas? Did you like the case? Sound off below.
Paul Dailly is the Associate Editor for TV Fanatic. Follow him on Twitter.