The Real Housewives of New Jersey Review: We Don't Like to Gossip But...

Christine Orlando at . Updated at .
We don't like to gossip... but there was plenty of it on The Real Housewives of New Jersey Season 6 Episode 3. We recap the rumors in our +/- review:
Highlight of the week goes to Milania Guidice for her sheer brattiness.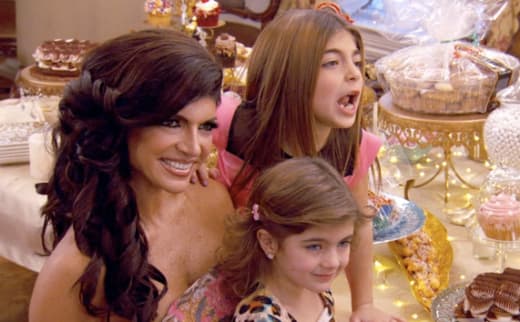 During a photo shoot, the hyper Guidice princess refused to stand still, tried to steal the photographer's camera and told him to, "Get your dirty hands off of me. You are so annoying, I swear," and that was before announcing, "You're a butt hole. That's your new name. Butt Hole."
Now, we certainly wouldn't want to have to raise this little spitfire but plus 35, because she was the most interesting person in this entire episode. 
On a side note,  her little sister Audriana goes around telling Mommy how much she loves her. Are these two really from the same gene pool? We have to wonder how annoyed Milania must get listening to her sweet little sister. Bravo could have an entire spinoff just on Milania's running commentary. Plus 22.
But on to the real Housewives…
Dina has Teresa sit down with a psychic who tells her she might be moving in the near future and that the legal issues will work out fine for her…but not so much for Joe. He's not going to be in the clear. 
Does it really take a psychic to come up with this? I'd ask for my money back. Minus 27.
Elsewhere Melissa Gorga finds out that her husband has invested millions of dollars into what is basically a high end shredder on wheels. Of course if Juicy Joe had gotten his paperwork disintegrated  maybe he wouldn't be in this mess now. 
Speaking of which, Amber's husband Jim says he can't be anywhere near Joe Guidice because of his job. 
Um…perhaps he should have thought of that before signing a contract to appear on the same reality TV show with the man. Just saying…minus 33.
And a huge minus 50 to Amber and Jim for making us watch those silly commercials. I hate it when people put their own kids in their commercials. So. Very. Corny.
Don't even get me started on the Mortgage Hold Hair Flip. 
I don't mean to be insensitive but how many times this season will we have to hear Amber utter the words, "Oh, did you know I had cancer?" 
Amber seems to be one of those people who starts a conversation with I don't like to gossip but…and then tells ever juicy detail. Minus 23. 
Perhaps next time she'll know not to tell Melissa, who quickly tells Nicole that her good friend is calling her a home wrecker behind her back. 
The twins immediately jump in the car and head to Amber's, only to realize the kids are home (Where did they think they'd be?) and decide that the big confrontation will wait until next week.
Do we care? Not really. 
Episode total = -76! Season total = -294!
Tell us TV Fanatics, should Melissa have told Nicole what Amber had said about her.
C. Orlando is a TV Fanatic Staff Writer. Follow her on Twitter.