We're past the halfway point in our 15 Days of Arrested Development series here at TV Fanatic. While the season started off a little off-kilter, it seems on track to right itself in the back half.  
"Red Hairing" focused on the ginger sister of the Bluth family. This is the story Lindsay's arrested development.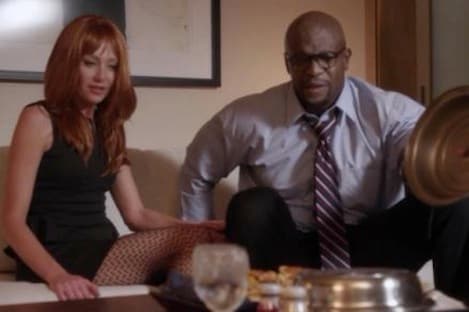 I'll admit that when it was announced that Arrested Development season 4 would be comprised of episodes focusing on individual members of the Bluth family, I was nervous about those that had Lindsay Bluth as the main character. While she is a great character, most of her depth and humor comes from her reaction to those around her, mainly Lucille and Tobias. I'd say Maeby as well but we all know she's forgotten her child existed more times than not.
Thankfully in Lindsay's arrested development, there were plenty of other characters for her to play off of, including members of her own family.
I love Marky Bark. There, I said it. He's just so adorable and gives Lindsay the perfect opportunity to be the activist she's always pretended to be. Of course, however, she ends up realizing that living with an ostrich and a man whom she has to constantly remind who she is isn't all that it's cracked up to be which drives her into the arms of Herbert Love.
I imagine it wasn't the first time Lindsay was mistaken for a hooker, nor will it likely be the last.
While Marky Bark and Herbert Love and their relationships with Lindsay were entertaining, I really enjoyed seeing Lucille 2 and Lindsay together. It wasn't something that I had expected but it was nice having Lucille 2 be that mother figure that Lindsay so was not getting from her "real" mother. 
Just as with episode 7, things are really starting to come together at this point which makes the investment of the first half of the season finally pay off. Now we know what the $50K check was for (Maeby's royalty check) and we know why Lindsey is at the fundraiser with Herbert Love in the first place.
We find out how on earth Marky Bark ended up blueing himself (why was it necessary to spend three days in the podium one has to wonder) and how Lindsay turned out to be the biggest supporter of "the wall." We also discovered that George Sr. didn't actually hallucinate the bird-man.
While "Red Hairing" wasn't the best of the episodes, it did do a lot to propel the story forward. It also had a scene that was most like something that would have occurred in Arrested Development of years past.
Michael and Lindsay both show up at the Balboa Club hoping to impress their respective dates and instead spend an awkward few minutes hugging and talking "in private" only to finally announce that they just met.
The dinner scene is rivaled only by Lindsay going to visit her mother in prison. Even though it was short, it was everything we know and love about Lucille and Lindsay's relationship. 
I think we can all also agree that this episode's "on the next Arrested Development" was the best of the entire season. Poor Annyong, all he wanted was some tomato juice. Good bye Annyong. 
What did you think of "Red Hairing? Are you a fan of Marky Bark?