Jim's Notebook: Open to New Girl, House of Cards and More!
Jim Halterman at .
With January behind us, I shook out my notebook and found Jake Johnson's hints that people wanted a Jess/Nick coupling New Girl... Netflix's new all-episodes-now approach to House of Cards... some tweaking for Body of Proof... and good news for Cinemax's action drama, Banshee.
Let's get started.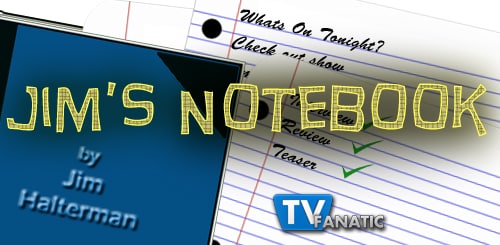 NEW GIRL Those collective gasps you heard around the world on Tuesday night? Just the long-awaited smooch between Jess and Nick. While Johnson hinted to me that this was coming in our one-on-one chat, he was reminded just how much fans really want Nick and Jess together when he was in Hawaii this past holiday season.
"A pickup truck with four Hawaiian dudes in the back drive by and I literally, I get scared," he told me. "I think their vibe seems cool but it's a little bit potentially tough. One of them sings in weird English 'La, la, la, la New Girl' and then yells 'Aloha Nick Miller', first and last name and that was a moment where I felt like 'Those dudes are watching New Girl, to the point they know 'La, la, la, la New Girl' and 'Nick Miller.'"
Though struck by this happening, Johnson said he managed to say, "'Aloha guys. Thanks for watching.' And they're like 'Nick, Nick' and they're like 'Jess, Jess.' They all laughed and drove off…that's hard to mentally grasp."
HOUSE OF CARDS Like marathoning a show on DVD or Hulu? Then Netflix is your new best friend, as it launches its new Kevin Spacey/Robin Wright drama today with all 13 episodes available immediately. Creator Beau Willimon explained:
"In terms of 13 hours all at once, I think that's the trend that viewers are moving in. They are experiencing television shows more and more as entire seasons. They have become accustomed to watching things when they want to watch them, how they want to watch them, on what device they want to watch them on, and Netflix is smart enough to acknowledge that and to exploit it. And so, you know we're proud to be the first to deliver a show in that way. We certainly won't be the last."
The series uses Washington politics as its backdrop, with Spacey playing the House Majority Whip who is passed for the Secretary of State job and, essentially, plots a plan for revenge.
"This is a show about power," Willimon continued, "and certainly whenever you are exploring power you're going to deal with a wide range of egos. So, our characters are exhibit examples across the spectrum, in terms of their moral compasses, and sometimes the needle shifts as their lives progress."
(Having seen the first two episodes, trust me when I say you'll be glad you can devour them one at a time without ever leaving your couch!)
BODY OF PROOF When the Dana Delaney-starrer returns later this month, you'll notice the show has amped things up quite a bit in year three.
"We started thinking about how do we bring Megan's personal life into the actual A case, the actual investigation," said Executive Producer Christopher Murphey at the recent TCA press tour. "The idea came about of a detective who she had a past relationship with (played by Human Target alum Mark Valley) and bringing him on board and their relationship would play in the course of the A story, in the course of the investigation."
Producer Matthew Gross admitted that with the two-part Contagion-esque story at the end of Body of Proof Season 2, there was a ratings spike and they realized they needed to slightly shift focus.
"We decided to continue that momentum and make stories that are more thrilling, have more stakes, and have the show have a second gear. So it was no longer just about solving a murder but also stopping something else from happening." Body of Proof returns to ABC on February 19.
BANSHEE If you haven't checked out the new Cinemax series, the time is now. The series, about a con man (Lucas) who masquerades as sheriff in a small town where lots of shady things are happening, just got picked up for a second season.
Of course, one of the complications in Lucas' new life is that a past love (the ass-kicking Ivana Milicevic) is also living in this town, having moved on from her past with him…or has she?
"This is the love of her life," Milicevic told me, "but not somebody that she should be with. You shouldn't always end up with the love of your life. Sometimes you should end up with somebody that's good for you."
But can we expect the two to actually stay apart?
"Every smart part of her, every logical part of her, is all about her family, her heart is all about her family, but there just is something in her groin that's, like, 'but you're the one that knows me better than everyone else."
Banshee airs Fridays at 10 p.m. on Cinemax.
That's a wrap for this week! Anything else you're dying to know about your favorite show? Leave a comment here or you email me directly at jim@jimhalterman.com. And remember: follow @TVFanatic for all your TV scoop


Jim Halterman is the West Coast Editor of TV Fanatic and the owner of JimHalterman.com. Follow him on Twitter.