We've arrived at the end.
Following a year-end countdown that has asked readers to vote on the Best New Show of 2012, along with the Best Comedy, it's now time to decide on the very best of those best.
Join our staff below and weigh in, TV Fanatics: What was the Best Show of 2012?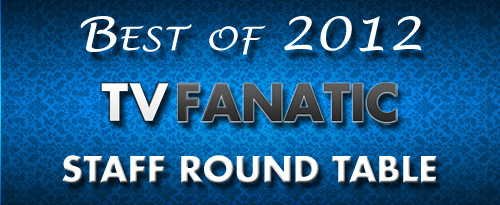 Miranda Wicker: Scandal. No show has captured my attention or kept me on my toes the way that this one has. Everything about it from the writing to the costuming is fantastic.

Kate Brooks: Revenge.

Gabrielle Moss: Breaking Bad.

Matt Richenthal: Dexter was not the best show of 2012. But it deserves recognition for the best bounce-back in recent memory. Dexter Season 6 was a disaster, but Dexter Season 7 was as engrossing, intriguing and as well-paced as this series gets.

Nick McHatton: Awake.

Dan Forcella: Breaking Bad had its best year since season two in 2012. Bryan Cranston put forth some of his best work, and the shortened run allowed the pace to race along at the perfect speed for this high intensity drama.

Christine Orlando: Game of Thrones. I became totally hooked on this HBO drama, but it's so intense I was almost happy there were only ten episodes.

Lisa Palmer: Mad Men Season 5 was the absolute best of this classic. Smart, beautiful, purposeful storytelling always wins in my book.

Leigh Raines: Scandal. Heart pounding, adrenaline pumping fun with an amazing cast.

Jim Garner: Burn Notice. Matt Nix took the show to one of the darkest places I've ever seen, while still making Michael Weston a lovable character. Awesome stuff.

Chandel Charles: Scandal. Hands down. From the actors to the story. it just grabs my attention and never lets go, even after the episode ends. Definitely a show that keeps me coming back week after week.

YOUR turn, TV Fanatics: Vote now on the Best Show of 2012...

Tags: Round Tables, Best of 2012