The Killing Exclusive: Eric Ladin on Haunted Pasts and a "Satisfying" Finale
by Sean McKenna at . Comments
After a shocking ending to one of the season's most suspenseful and high stakes episodes yet, The Killing is gearing up for its grand finale.
Eric Ladin, who plays campaign manager Jamie Wright, spoke with me on the phone about his character's motives, his mysterious past and becoming a fan of the show.
"To be honest, the very first time I read the script, I wasn't looking at the character of Jamie. I knew that they wanted me to, but I just got sucked in. I absolutely loved the script," he said, adding:
"I read it again and focused on just Jamie. He was somebody I wanted to get to know more. That's usually how I gauge characters. If it's somebody that I feel like "Oh, I'd really like to get to know this person a little bit better," than it's probably a character worth exploring."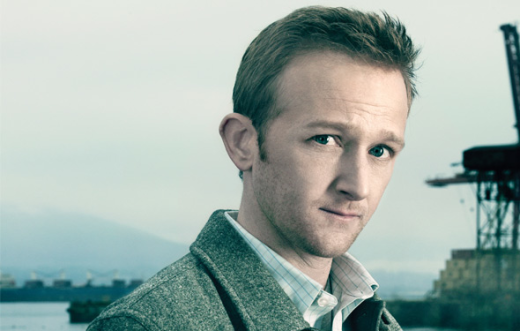 But Ladin didn't know everything about Jamie's backstory as showrunner Veena Sud and the writers gave him specific bits and pieces of his past while he filled in certain blanks. With each new script that entered his waiting hands, the story and Jamie's arc began to unfold, specifically Jamie's past.

"That's what a lot of this season's theme has been, which is the past haunting us and how long we can keep secrets buried. For Jamie in particular you're finally starting to see another side of him."

In fact, the first season has portrayed Jamie as something of a political shark, but with Richmond's injury in the second season, he's had to open up in a way we haven't seen before.

"I think deep down, he's a good genuine person and Richmond is a dear friend of his so, obviously when put in a situation when no family is around and Gwen takes off, he's left to clean up the mess. He's the kind of person that does just that and doesn't leave him high and dry."

One of Ladin's favorite scenes involved Jamie treading into uncharted territory by helping out personally instead of just playing behind the scenes and pulling strings on the campaign.

"The scene that comes to mind is with Billy [Campbell] where I'm picking him up and pulling him out of bed. That scene took us about all day and nearly broke my back," he laughed.

But are Jamie's motives to push Richmond back into the campaign more than just to get him back on track?

"I think that for mentally to get him out, he wants to put [Richmond] in a place where he feels comfortable and builds his confidence. At the same time, it allows Jamie to do what he does best and be in an arena and perform at his best which is the campaign."

Of course, that journey back and unfolding history is entwined in the ultimate conspiracy surrounding Rosie Larsen and the actor confidently declared that "fans will be very satisfied" with the finale this time around.

"If you're one of the people that can't really get over last season, you'll probably find problems with it. If you're watching it for entertainment value, then the season finale is a huge, huge payoff and a lot of fun and very intense and very much worth the wait."

So what's in store for Jamie on the rest of the season?

"[We] start to delve a lot deeper into Jamie's home life and why he is the way he is and why he acts the way he does."

It seems there's a lot more to this loyal campaign manager than meets the eye.

You can watch Eric Ladin on a new episode of The Killing this Sunday at 9 p.m. on AMC as well as a guest spot on the season finale of Law & Order: SVU. Follow him on Twitter @EricLadin or his website Ericladin.com.

Sean McKenna is a TV Fanatic Staff Writer. Follow him on Twitter.

Tags: Exclusives, The Killing, Interviews