And The Amazing Race Winners Are...

Luke Dwyer at .
The finale of Season 19 of The Amazing Race, "Go Out And Get It Done," had the potential to be awesome... but was quickly devoid of excitement. The race designers put together a challenging leg that could have been very dynamic, yet two key mistakes eliminated any drama.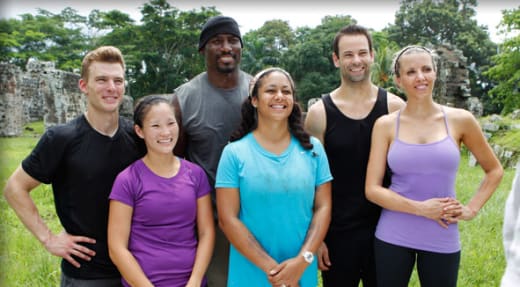 In recent seasons, the final leg has been known for having a great challenge. That is, some activity that regular people would not be able to do unless they were on something like a television show. In addition to being fun, often the challenge proved to be difficult and potentially race determining.
This season was no different, with what we can only assume was the fun Lear Jet simulator. Although the challenge did not determine the winner, it did eliminate one team. Jeremy and Sandy completed it on their first attempt and Ernie and Cindy only failed once. Amani and Marcus needed twelve tries, virtually eliminating them within the first 15 minutes.
What was disappointing about eliminating Amani and Marcus – beyond what would have been a tremendous celebration if they won – was that their knowledge of Atlanta might have been the leg more interesting. While trying to find Margaret Mitchell's house - armed only with the clue that it used to be called "The Dump" - Ernie and Cindy figured it out while Jeremy and Sandy did not.
Worse yet, Jeremy and Sandy thought they had down, went to the wrong place (a former Home Depot now a furniture store called The Dump) and probably spent at least 20 minutes looking for a clue box they'd never find. This simple error essentially eliminated Jeremy and Sandy. The race became Ernie and Cindy's to lose.
The first potentially terrific moment we were robbed of was at the Roadblock. Typing a simple note on an old type writer does not seem that difficult, but if someone else was in the room with Ernie, the pressure of not getting it right the first time would have built exponentially. Instead Ernie was calmly able to take his time, make a number of mistakes and still leave in first.
Next, the producers obviously put a lot of effort in to the final challenge. Suspended on a giant map, the teams had to navigate a rope though carabineers attached to countries on the map to trace their route. Cindy easily banged out the challenge, but watching Jeremy do it later shows that he was much faster than her. Again, if the duos are side by side we have some great moments.
For the last scene, CBS did its best to manufacture the drama. Hard to blame producers for trying after a fairly tame finale, but it was obvious that Ernie and Cindy were far enough ahead of Jeremy and Sandy that their navigational errors did not impact them. At least Ernie and Cindy had no idea where Jeremy and Sandy were, so their frustration and emotion was real.
Speaking of real emotion and frustration, the look on Ernie's face when it sunk in that he and Cindy had won was awesome. You could really see the sense of accomplishment that must come from winning The Amazing Race.  t's a feat that can't be replicated when winning CBS' other big reality show, Survivor. The winners there often seem simply relieved. 
]My final grade for Season 19 of The Amazing Race is a B. The majority of the legs and destinations were good, but not great. The cast was likable, but beyond Andy and Tommy, nothing spectacular. The finale was a dud and that's always going to bring the feel of the season down.
The only good part about the end of one season is the start of another. The 20th season of The Amazing Race is set for this winter, so check back in with TV Fanatic and @LilLukeD for more reviews and analysis.

More from this episode:
I love Marcus, but his football analogies started to get stale. I know his time in the NFL really defines who he is, but you'd like to see a bit more creativity about of him.
What an awesome clue "44 – 715 – 74" was. I'm surprised that Ernie and Cindy figured it out at all. Try Googling it yourself and see what comes up. Nothing to do with Hank Aaron.
Best quote of the season was saved for last. From Phil on the final mat to Marcus: Promise me one thing: you will never become a pilot.