This week on the Round Table, Drs. Burke and Yang refuse to give an inch, feelings grow between Addison and Alex, Mark is even more of a jerk than usual, and Mer snores up a storm ...
Will Addisex pick up where it left off in Part I? What about O'Callie?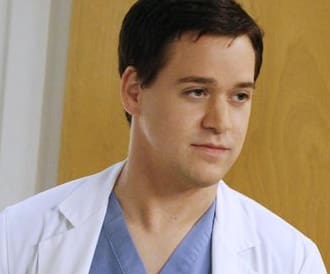 McCritic: Addison and Alex, really? So soon after she McRebounded and he had his Isobel rung? Let's hope these two give themselves some time to recover before delving into another complicated, work-related romance. Not so for George and Callie, however. He's realized the importance of that very tall drink of orthopedic water and she's sowed her wild McOats. Their time is now.
Married-to-McDreamy: I definitely hope that Alexisson will pick up where they left off. Those two would certainly make for an interesting - and quite attractive - couple. As for O'Callie, I'm not so sure. Callie sure seems to be standing by George's side during his father's surgery, but I'm not sure he's ready to dive back into that relationship yet. Poor Georgie seems to be on the verge of a meltdown.
iheartizzie: George does love Callie, but I don't think she's regained his trust, and I don't think he's in the proper frame of mind to be making life decisions with his dad's life hanging in the balance. As for Addex, there's obvious chemistry and willingness on both sides. Alex's admission that he f'ed up Mark's coffee on purpose was the most open, selfless moment he's shown us in two and a half seasons. Once she gets over the obvious "this can't be happening" jitters, Addison will be asking for 50 cc's of Karev. STAT.
[Shout out to fellow Round Tabler AwayWithMerDer, who is absent from the panel this week, and originally coined that last line]
How is Derek supposed to deal with that godawful snoring?
Married-to-McDreamy: I think he had the right idea when he was sneaking out to the couch or the hammock. That was a very nice way of handling it without embarrassing her. Now she is forcing him to stay with her and forgo his sleep at night. Who wants to be operated on by a brain surgeon who hasn't slept? Not me!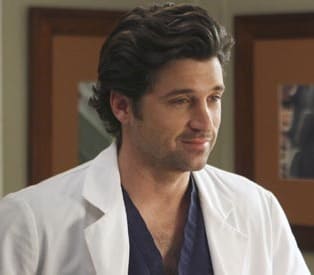 McCritic: Have a night cap or nine.
iheartizzie: He could get one of those white noise machines to drown out the snoring, or leave the TV on all night. Derek had better think of something, because sleeping outside in the hammock can't be comfortable, and George doesn't have time to laundry - there's no way those sheets are clean. If he can't get his beauty rest, how Derek do his job? More importantly, how is his hair supposed to look that good?
Who will say "uncle" first, Preston or Cristina?
Married-to-McDreamy: Hopefully someone! Their little game of "uncle" is starting to bore me. Seriously though, I think the scene at the end when she was on the couch in his room gave us a little indication that they do still care about each other and will eventually put their pride aside and reconcile.
McCritic: Cristina, as long as Burke plays his injured hand right. Don't say "uncle," Preston. Don't even say a word. Just moan and sigh every time she walks into the room. If you can muster a tear or two, the game is over. She'll break.
iheartizzie: Cristina. Pride may be keeping her from apologizing to Burke - or expressing whatever it is she is feeling inside - but you can tell she cares about him deeply. Preston won't initiate anything because he feels betrayed, not to mention subdued after another surgery. Once Yang takes the first step, however, he'll realize what he has, and that throwing away the glory that is Burktina on account of hubris would be foolish.
More bent out of shape: Mark Sloan, or that poor girl's back?
iheartizzie: That was one messed up spine, don't get me wrong. But Mark needs to grow one of his own and get his act together. Abusing the interns (and Addison) verbally isn't the way someone should deal with his emotional problems. A self-described pathologically destructive personality, Mark should ask Izzie for a psychiatrist referral.
McCritic: That poor girl's back. Did you not see her try to walk?!?
Married-to-McDreamy: That poor girl's back! Do we even know why Mark is so bent out of shape this week?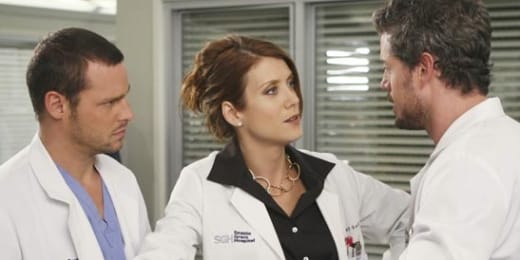 Steve Marsi is the Managing Editor of TV Fanatic. Follow him on Google+ or email him here.