Titans: Teagan Croft on Going Dark as Raven, Parental Figures, & More!

Carissa Pavlica at . Updated at .
Teagan Croft hardly looks like the dark teen fighting for her life on Titans.
Rachel Roth doesn't know what she is; she barely knows who she is when the series begins.
Croft is a bubbly young woman with a bright smile, but her mother urged her to try for the role of a character infused with something quite demonic.
Not only is Croft the youngest member of the Titans cast at only 14 years old, but she's also joining fellow actor Anna Diop (Starfire) as they endeavor to breathe life into their characters for the first time in a live-action version.
Isn't that exciting?
Related: Titans Renewed for Season 2!
Rachel/Raven is central to the plot, too.
The character's vulnerabilities pull together the others and help them form a family, something Rachel needs very much.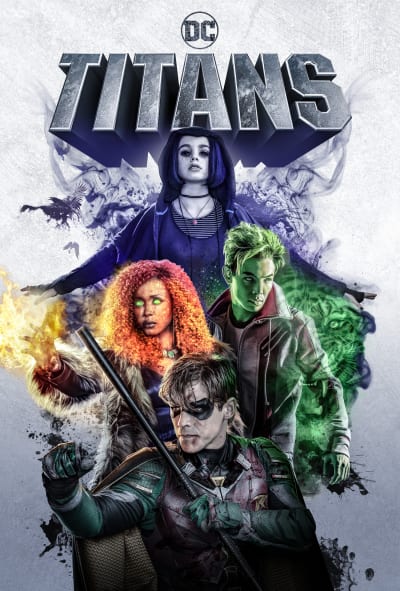 They might not know it as the story begins to build, but Starfire and Dick Grayson aka Robin (Brenton Thwaites) need that family feeling, too. They discover a desire to protect Rachel and will find themselves drawn to one another, too, we hope.
There are signs sprinkled throughout the interviews that say the series will be going in the same direction as the comics, so keep your fingers crossed if that was something on your wish list.
Related: Anna Diop on Bringing Starfire to Life for the First Time!
What does a vulnerable young girl do when she's harboring a dark secret she can't contain?
She runs, of course. 
But this girl has powers that help her even if she can't control them, and Croft shares what it's like to keep herself from falling into the darkness of the character and taking home bits of Raven and Rachel.
Beastboy aka Garfield "Gar" Logan (Ryan Potter) will play a big role in Rachel's life, and Croft touches on it during the interview. 
How will Rachel maintain touch with being a normal teen if she's hanging with adults and being some kind of superhero? Enter Beastboy.
There is a lot to look forward on Titans, so prepare to fall in love with the unconventional family that will build during the first season.
Related: Titans Trailer: The Heroes Assemble!
To watch, you need to sign up for DC Universe.
You'll also need to tune in for the premiere on October 12.
And you'll want to stick around TV Fanatic for more interviews, reviews, and news.
You know we have your backs!