Shut Eye takes a darkly comedic look at the world of Los Angeles storefront psychics and the organized crime syndicate that runs them.
Former magician Charlie Haverford (Jeffrey Donovan) oversees a number of fortune telling parlors on behalf of his violent and domineering Romani kingpin boss, until a blow to the head jars him into a new mindset, making him question everything he has ever believed.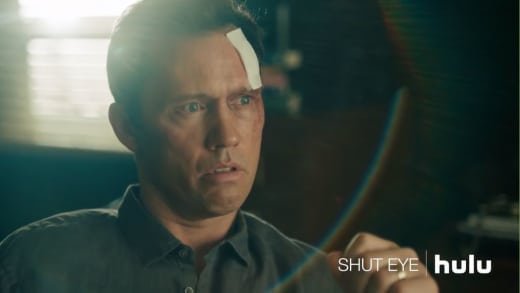 Not sure what a Romani is, exactly? Well, when you're watching the clip, they're calling themselves gypsies. 
Also starring KaDee Strickland, Isabella Rossellini and Emmanuelle Chriqui, this series takes an interesting look at what's happening behind the scenes of the fortune tellers in the Los Angeles area. 
It's great having Donovan back on TV, and he and Strickland have wonderful chemistry as husband and wife, as they try to make a place for themselves in a world in which they don't naturally belong.
I hate to be the bearer of bad tidings, but what the people in the parlors are best at is conning their customers out of their hard-earned money.
Until that blow on the head. Then Charlie's gift becomes something else altogether. Will it make him more valuable or put him and his family in harm's way?
You can find out on Wednesday, December 7. Hulu is going against their usual model with the release of Shut Eye and releasing all 10 episodes of the series so you can gobble them up in one sitting just like you can with the other guys. 
Check out the trailer now and let us know if you'll be giving it a watch.
Closer to the premiere date, we'll have insider information for you with interviews with the cast straight from New York Comic Con.