With his father in jail, Ben snapped and strangled one of his biggest supporters last week on Days of Our Lives. 
Our TV Fanatics Jack Ori and Christine Orlando are joined by Fluffysmom from MyHourglass a Days of Our Lives Fan Forum to share their reactions to Will's death, Adrienne's flip flop, and JJ and Gabi's budding friendship after last week's Days of Our Lives.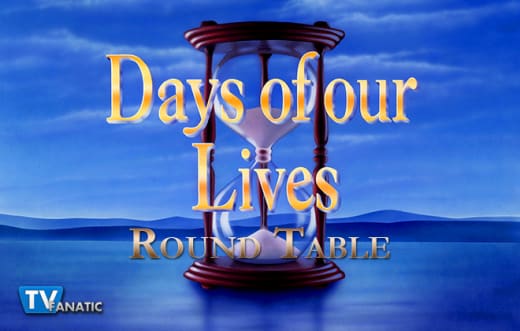 What's your reaction to Ben killing Will?
Jack:  I was really freaked out by Will's death scenes, and very sad. Will was just about to finally redeem himself. Now he will never get to see if he can walk the talk and be in a mature relationship with Sonny. This was even harder for me than Paige's death.
Fluffysmom: I'm not a big fan of Will but seeing him killed so brutally was hard. I love Lumi so it's sad to see their son killed.
Christine: Will annoyed the heck out of me this last year, and yet his death really disturbed me. I remember the scenes when he was born. As Sami and Lucas' son, he was such a core member of the show with a lot of potential for good story in his future. I was shocked they decided to kill him off. 
Adrienne dumped Justin once again. Are you happy, upset, hoping she heads back to Lucas?
Jack: I want Adrienne to just pick one of these guys and stick with them. This bouncing back and forth isn't attractive when Abigail does it and it's even worse when Adrienne, who is supposed to be a mature woman, does it.
Fluffysmom: I don't think Adrienne is in a good emotional state to be making decisions about a relationship with Justin or Lucas.
Christine: At least this felt like it made a little more sense than when she broke up with Lucas to go back to Justin, but you could get whiplash by the way Adrienne switches direction. The upside is that she will hopefully really be there for Lucas as he deals with losing Will. 
Do you think it's smart of Chad to stick around Salem?
Jack: I didn't think running away was smart in the first place. It just made him look guilty. With Eduardo's reward and Chad guilty until proven innocent, he's screwed either way though. The Dimera mansion is probably the safest place for him except he won't stay put.
Fluffysmom: I think Chad would probably be safer in a DiMera hideout away from Salem. However I understand him wanting to be in Salem to try to figure out who is framing him.
Christine: If he'd just stay put in the mansion, he'd probably be fine. Like he told Abigail, between the hidden passageways and tunnels, they could send a SWAT team in there and still not find him. 
Should Victor and Steve have told the family that Bo was dead (if he really were)?
Jack: If Bo is really dead, yes the family should be told. That way Hope can finally move on and we can see more of the good Aiden who loves her and comforts her and less of this nonsense that the writers have dreamed up recently.
Fluffysmom: I'm on the fence about this. I think Hope deserves to know Bo was being held prisoner. I understand that Victor and Steve may want to do more investigating before telling Hope and Caroline that they believe Bo is dead. 
Christine: They all deserve to know, but I understand Victor's hesitance. They've all been through so much already but he and Steve really do have to tell the family at some point. Of course I'm sure Bo will walk in the door ten minutes after they do.
What do you think about JJ and Gabi's budding friendship?  
Jack: I like JJ and Gabi's friendship. I think it's immensely helpful for JJ to have a friend who doesn't judge him and also has a rotten past and reputation (which is also why I wish he had maintained a friendship with Nicole.) Gabi's personality being similar to Paige's doesn't hurt either. However, it's way too soon for him to move beyond friendship and I don't want to see him doing any more bed hopping in an attempt to numb his pain.
Fluffysmom: I liked seeing the two of them becoming friends. They both need a friend right now. Neither of them would judge each other's past mistakes.
Christine: I love it, as long as it stays a friendship for a good, long time. JJ is in such emotional turmoil that he shouldn't be starting a romance or sexual relationship with anyone in the near future. But if the show takes the time to grow these two as friends, this could be a very interesting pairing. 
Was there anything that disappointed you this week in Salem?
Jack: I didn't like that Roman and JJ made it clear that JJ had betrayed Clyde. Clyde could still order a hit from jail or get out and go after JJ. It would have been so easy for Roman to "arrest" JJ when he arrested Clyde and leave Clyde thinking he had not been betrayed, so why didn't he do that?
Fluffysmom: I didn't like the scenes of Bo being tortured. Hopefully this week was the end of the torture scenes.
Christine: I agree with Jack's frustration over JJ being outed but this is the Salem PD. It's hard to expect much. Also, I really hope these scenes with Bo being tortured end soon. I have to fast forward through them they're so bad. 
What was your favorite quote, scene or story from this week's Days of Our Lives?
Jack: I really loved JJ confessing to Roman and then standing up to him and saying he was taking down Clyde no matter what. This is the confident, strong, courageous JJ that has been missing for months, and he was also definitely channeling his father. Roman essentially telling JJ he was proud of him was a nice moment too.
Fluffysmom: My favorite scenes were the flashbacks involving Caroline when her family was waiting for her to wake up.
Christine: The flashback of Kayla, Caroline, and Steve when Stephanie was born. It made me sad because of how Steve missed his little girl's entire childhood but I still loved seeing it. 
If you need to catch up, check out our Days of Our Lives recap and review here at TV Fanatic. 
C. Orlando is a TV Fanatic Staff Writer. Follow her on Twitter.