TV Fanatic is asking readers to chime in: Who is the sexiest female sidekick on television?
But staff writers have an opinion on this topic, as well, with Matt Richenthal defending Pam from True Blood and, below, Jeff Kirkpatrick taking the side of Donna from Suits. Prepare for more arguments on behalf various of beauties as the week rolls on, and don't forget to make your view known in the following poll.
Take it away, Jeff...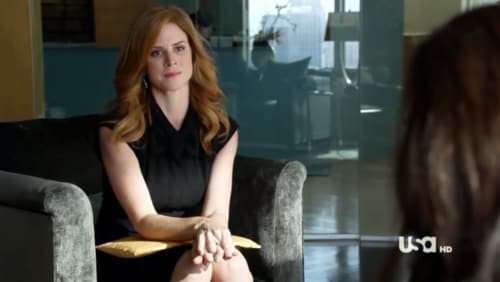 Knowledge is power. Power is sexy.
Although Donna may not rank as highly as most of the folks at Pearson Hardman, nothing escapes her notice, making her one of the strongest assets to the firm. And she's not afraid to let you know it:
I know you meant that as a compliment, but I don't appreciate limits being placed on my beauty.
Not only is the woman ravishing, with that irascible red hair and bewitchingly chocolate eyes, Donna also carries herself with the slinky confidence of Catwoman and dresses like she just stepped off the set of a high fashion photo shoot.
She's a woman of few words, but when she speaks, she commands your attention. Donna's wit unravels everyone on the receiving end of it, whether it's playfully teasing newbie Mike or manipulating resident grouch Louis Litt - and it makes her incredibly irresistible.
Louis: I'm not being vindictive.
Donna: Am I in the right office? | permalink
She's not afraid to use her femininity to her advantage, and can even get the formidable Harvey Specter to cave in and apologize without uttering a single syllable. Oh, the power this woman wields. Sexy, indeed!
Not to say she's a femme fatale. She's as loyal as they come, the one woman Harvey can't survive without, even offering herself up (professionally!) to save his skin on more than one occasion. Even senior partner Jessica knows how important it is to keep Donna happy, a fact she continually reminds Harvey. Imagine your life without her, Harvey.
I can't imagine my life without this sexy sidekick, either. So my vote goes nowhere else but to Sarah Rafferty's phenomenal Donna. How about yours? Vote now. The poll closes at 5 p.m. EST on Friday, November 4.
Poll is now closed! Here are the results:
Kono Kalakaua (Grace Park) - Hawaii Five-0
3.8%
Britta Perry (Gillian Jacobs) - Community
1.1%
Angela Montenegro (Michaela Conlin) - Bones
7.9%
Donna (Sarah Rafferty) - Suits
4.3%
Fiona Glenanne (Gabrielle Anwar) - Burn Notice
3.4%
Pam De Beaufort (Kristin Bauer) - True Blood
7.9%
Caroline Forbes (Candice Accola) - The Vampire Diaries
27.7%
Astrid Farnsworth (Jasika Nicole) - Fringe
7.4%
Sarah Walker (Yvonne Strahovski) - Chuck
30.4%
Bonnie Bennett (Katerina Graham) - The Vampire Diaries
6.0%
Jeffrey Kirkpatrick is a TV Fanatic Staff Writer. Follow him on Twitter.