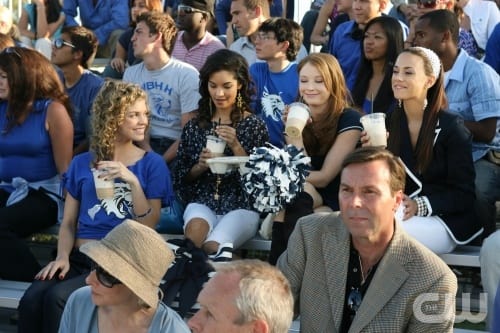 The CW is moving its smash hit Gossip Girl to Monday nights at 8 p.m., starting January 28,
Variety
reports this morning.
Because of the writers strike, Gossip Girl will be in repeats after this week's episode, the 13th of its freshman season.
But by moving the show from Wednesdays, the network believes it can expose Gossip Girl episodes to a whole new audience.
"I don't think anyone's expecting miracles in terms of running series repeats, but at the same time, there's a unique opportunity to get some new eyeballs on it," said CBS' Kelly Kahl, who also handles the C-Dub's lineup.
"There's great buzz and reaction to Gossip Girl - now we just want to grow the audience a bit. The Wednesday competition is tough, and it will get tougher with American Idol."
The move is just one of several shuffles the CW announced Friday. On Tuesdays, network will replace repeats of Crowned at 8 p.m. with repeats of Reaper until March 11, when Beauty and the Geek returns.
One Tree Hill remains at 9 p.m.
We're giving Reaper a few Thursday airings, which means for the first time a real compatible lead-in for the show, from Smallville, Kahl said.
Steve Marsi is the Managing Editor of TV Fanatic. Follow him on Google+ or email him here.