Patrick Dempsey Looks to the Future, Envisions Life After Grey's Anatomy
Steve Marsi at . Comments
He is, without a doubt, at the peak of his career as the leading man of Grey's Anatomy, but TV heart-throb Patrick Dempsey is not immune from pondering his life beyond Dr. Derek "McDreamy" Shepherd.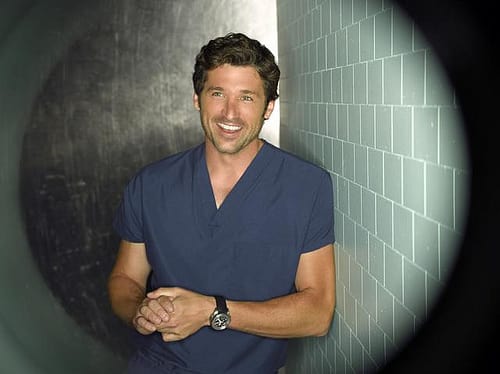 In a mid-morning interview on the Los Angeles set of
Grey's Anatomy
, a relaxed
Dempsey imagines the future
, when he will have had enough of the demands of the medical drama and can live quietly with his wife and kids.
His feelings have been shaped in large part by his wife, Jillian, giving birth in February to twin boys, Sullivan and Darby. He also has a five-year-old daughter, Talula.
"It's (the arrival of twins) daunting and overwhelming. I think it's going to be really fun," Dempsey says. "Eventually, at the end of this run of Grey's, it will be nice to retreat to the country and raise them in an environment that is much better than Los Angeles."
"I love family. I think it's the one thing that keeps me sane in all the craziness of what's going on with this show."
Patrick Dempsey, who works up to 16 hours a day on Grey's Anatomy, says it's nearly impossible to find an escape from the hype generated by the global success of the show.
Though he credits Grey's Anatomy with resurrecting his career, he has found it a challenge dealing with intense media scrutiny, particularly about cast unrest on the show.
Patrick Dempsey and co-star
Isaiah Washington
had a well-documented spat that ultimately led to Washington not being retained by the series.
"It (scrutiny) doesn't end," Dempsey says. "It's demanding and the exposure is unbelievable. I mean, it's worldwide, more so than any movie you'll ever do, I think.
"Coming at this point in my career, I have better tools to cope, but it's not always easy. I think everybody on the show is adjusting to the amount of attention and pressure and responsibility.
"We have our growing pains. I think we're coming together as a company in a really good way... supporting each other on our good days and bad days.
"Sadly, it (media scrutiny) is a sign of your success if they're coming after you and blowing things out of proportion."
Eager to bring some levity to the interview, Dempsey starts talking about the fun he's having with castmates, including Eric Dane, who, as Mark "McSteamy" Sloan has challenged Dempsey's heart-throb status.
Eric Dane's arrival, Dempsey says with a laugh, has prompted him to go on a diet and hit the gym.
Given one of Dane's first scenes featured him draped in a towel, Dempsey jokes it's only a matter of time before his friend appears in a Bed, Bath & Beyond calendar.
"He's ripped, certainly," Dempsey says. "I've been fasting since he's entered the show."
Steve Marsi is the Managing Editor of TV Fanatic. Follow him on Google+ or email him here.