Sure, Dr. Shepherd is McDreamy and Dr. Burke is McPerfect. But one of their subordinates may have bumbled his way into just as many hearts.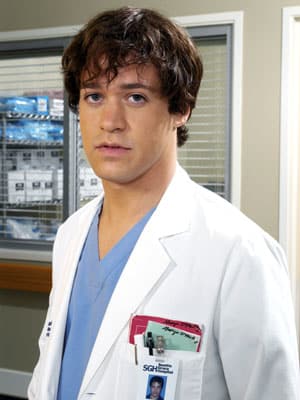 T.R. Knight
, who plays the sweet, awkward and overlooked
George O'Malley
, is on the
Entertainment Weekly
"Must List" -- people in the entertainment world we must know more about, and keep our eyes on.
He's shy and emotional. He means well but makes bad decisions. He's excruciating to watch at times, but always lovable. Everyone can relate to him. In an interview with EW, Knight talked about his own "crush-worthy" status, himself compared to O'Malley, Meredith, Callie, and what's up next for him... if anything.
On becoming a heartthrob:
"That's not something I see. I don't foresee myself ever seeing that, unless I get some work done."
George vs. T.R.:
"We do have a lot in common. Like, when people are a$$holes, I kind of freeze up, because I don't expect that to happen."
Meredith vs. Callie:
"It's nice to know that someone is into [George] who doesn't cry during sex or give him syphilis."
On passionate Grey's Anatomy fans:
"I got a swat on the arm from a woman on the street, saying 'Shame on you for sleeping with Meredith!' But I believe it was a loving swat."
Random, George-like ramblings:
"Dissimilarities... is that even a word? Or is it like uncomfortability? I used that for a long time. Then I realized discomfort was a lot easier. The word uncomfortability is uncomfortable."
On looking for addtional work:
"I could lie and say 'You know, I just want to take some time off.' But I'm auditioning to see if they want to show me some love, and so far they're not showing me some love."
It's okay, T.R. You can rest assured that all of us at the Insider and 20 million other Grey's Anatomy fans will show you the love in season three.
Steve Marsi is the Managing Editor of TV Fanatic. Follow him on Google+ or email him here.