Sharp Objects Trailer: Can Camille Preaker Catch a Break?
Paul Dailly at . Updated at .
Camille Preaker returned to Wind Gap after years away on Sharp Objects Season 1 Episode 1, but will she be able to solve the murders that are dividing the small town before it's too late?
HBO has unveiled a trailer for the rest of Sharp Objects Season 1, and it looks like Camille is going to find herself going up against a lot of people in the town ... including her own mother. 
There are scenes from a funeral, which I'm going to assume is from the victim whose body showed up at the close of the series premiere.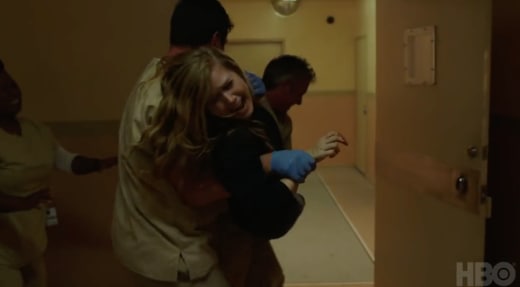 But the big issue is that Camille is working on the story for the newspaper she works at. That's enough to divide a community and Adora is not impressed about. 
She wants her daughter to move on with her life and report on something else ... something that will not make the town hate her. 
Related: Get HBO via Prime Video Channels for Addictive Dramas, Hilarious Comedies & Hit Movies!
Camille is relentless and will stop at nothing to get the results she needs, and that could explain why it looks like she's being sent to a psych ward after some sort of altercation. 
If the killer is wise, they will do well to discredit Camille's character because it means any evidence she has on them will not worth that much. 
Have a look at the trailer for the full season below, and join us in the comments with your thoughts on the series. Is it the hit you've been waiting for?
Sharp Objects continues Sundays on HBO.