On May 14, Bones concludes its fourth season with an episode titled "The End in the Beginning" and a seminal scene in the show's history:
Brennan and Booth... in bed!
While we haven't uncovered any photos of the naked characters, post-coital, we have found a few spoiler pics from the season finale. To wit: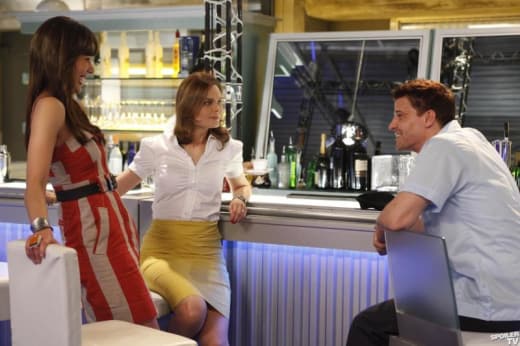 Meanwhile, star Emily Deschanel recently spoke on how the season finale will affect things heading into season five.
"I've heard many little things about Season 5. You know they're just beginning to write that now so you know I know less than what they know and they don't know very much. So I know kind of because it ends with a kind of cliffhangerish thing," Deschanel said, adding:
"I know a little bit what happens after that but it's hard for me to talk about it without people having seen the episode. But definitely Booth and Brennan will have a new dynamic the beginning of Season 5. As you would imagine since we end up, we're in bed together in the end of Season 4 but it will, we will have a whole new dynamic the beginning of Season 5. Our relationship will change."
Matt Richenthal is the Editor in Chief of TV Fanatic. Follow him on Twitter and on Google+.