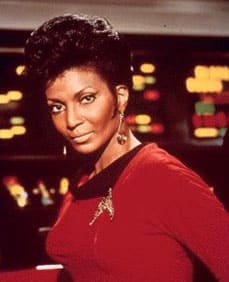 The connections between
Star Trek
and
Heroes
continue.
Zachary Quinto, of course, is joining the next installment of this movie franchise - and in new casting news, it's been announced that another member of the original series is coming to Heroes for a bit.
Nichelle Nichols (Uhura) will be joining her Star Trek cast mate George Takei (Hikaru Sulu) on the NBC hit show next season.
According to reports, Nichols will have a recurring role on the show, appearing in five or six episodes.
Her addition was already hinted at recently by Heroes creator Tim Kring, when he told E! Online he was looking "for another face that will have a very similar impact" to genre fans as the casting of Takei did.
Heroes was the most successful drama series on NBC last year. Halfway through the first season, Takei joined the show as Kaito Nakamura, the father of a young Japanese Star Trek fan who can move through time and space using only his will.
Last month, word already leaked out that former Star Trek: Enterprise star Dominic Keating (Malcolm Reed) will be playing an Irish mobster during several episodes of the show's second season.
Matt Richenthal is the Editor in Chief of TV Fanatic. Follow him on Twitter and on Google+.