Roswell, New Mexico Sneak Peek: The Fourth Alien Makes a Move!
Paul Dailly at .
After a mini-hiatus, Roswell, New Mexico is back.
Tonight marks the buzzy CW drama's return, and it looks like the episode is going to be a wild one. 
Here's the network's official description of Roswell, New Mexico Season 1 Episode 11:
NIGHT AT THE GALA — As the town prepares for the UFO Emporium Re-opening Gala, Liz (Jeanine Mason) and team find themselves on a collision course with an unlikely enemy.
Nathan Parsons, Michael Vlamis, Lily Cowles, Heather Hemmens and Karan Oberoi also star. Edward Ornelas directed the episode written by Adam Lash & Cori Uchida (#111).
The official promo for the episode already teased that the elusive fourth alien takes control of Isobel again, and it puts more lives on the line. 
In a brand new sneak peek released by The CW, Max finds himself locked up in Michael's fallout shelter. 
Related: Roswell, New Mexico Season 1 Episode 10 Review: I Don't Want to Miss a Thing
But that's not to say Michael is the one who kidnapped him. Despite looking as fresh as a daisy, Michael maintains that he was not the one who locked them up. 
With the fourth alien on the loose, it sure sounds like the villain is ready to make a big power play.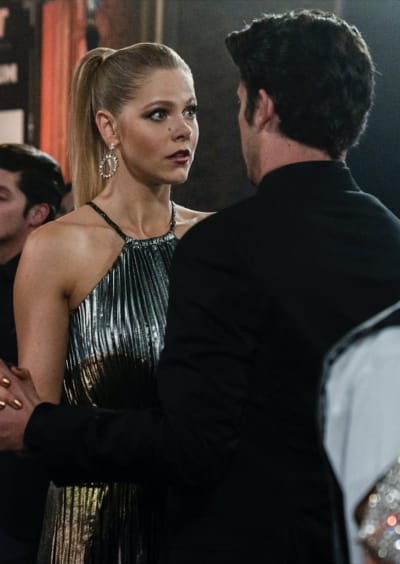 One thing we can bank on is some drama as we approach the final few episodes of Roswell, New Mexico Season 1. 
The show's fate is still up in the air, with The CW not expected to make a decision about Season 2 until May. 
The good news is that the show's ratings are on par with others that have already been renewed. 
Have a look at the full sneak peek below and hit the comments with your thoughts on it. 
Be sure to return after the episode airs tonight for a full run-down.