Grey's Anatomy Season Finale Promo: DeLuca in Cuffs!

Jasmine Blu at .
Grey's Anatomy is gearing up for another insane season finale fans will be talking about for the rest of the summer!
The fog has descended upon Seattle on Grey's Anatomy Season 15 Episode 25, and it may put a few of our favorite characters in peril. 
However, we're most interested in the follow-up of Grey's Anatomy Season 15 Episode 24's shocking cliffhanger!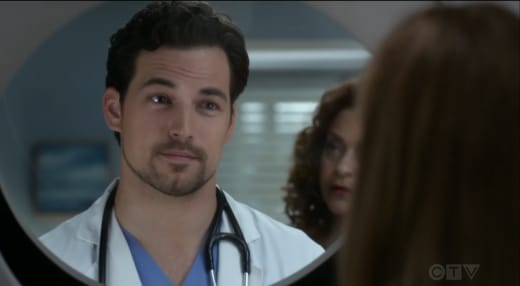 After Bailey and Catherine spent all day in the conference room of the hospital, it was revealed they were sitting with an insurance company and the insurance fraud Meredith committed to treating little Gabby has come to light. 
Related: Grey's Anatomy Season 15 Episode 24 Review: Drawn to the Blood
Meredith was indisposed for most of the day tending to Jo, but when she made it to the hospital, she ended up locked inside of the hyperbaric chamber with Alex and a very sick Gus in need of his golden blood.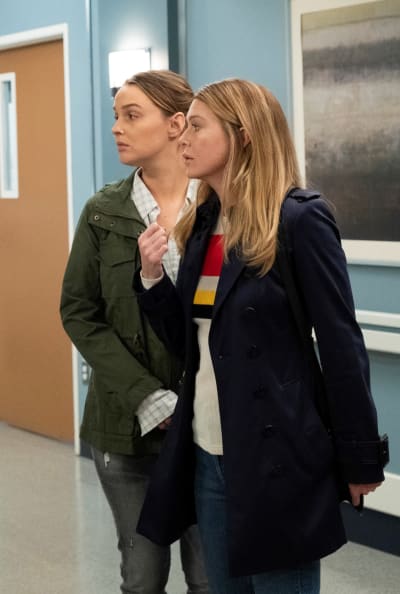 The hyperbaric chamber was not the place she wanted to be in when Catherine and DeLuca came in so that DeLuca could let Meredith know as discreetly as possible that he took the blame for her actions. 
Fans are torn on how to react to this news with some finding the act the most romantic and selfless act a person could do, and others finding DeLuca's decision incredibly dumb. 
In the wake of this news, not only can DeLuca lose his medical license for good, but he could serve time in prison for insurance fraud.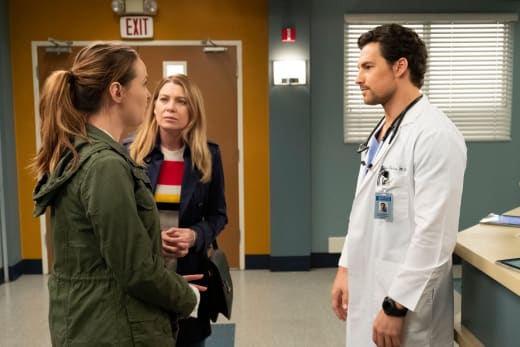 It was an act to protect and prove his love for Meredith, and I'm sure his stupid AF heroic actions will lead Meredith to confess her love to DeLuca when she withheld before. 
Related: Grey's Anatomy Renewed for Two Seasons at ABC!
The promo shows DeLuca being carted away as a worried Meredith paces in the hyperbaric chamber with Alex, helpless until she can get out. Richard wonders why his star resident is being hauled down the hospital hallway in handcuffs. 
While performing surgery, Bailey suspects Richard had something to do with it and knows Meredith is probably behind it and not DeLuca.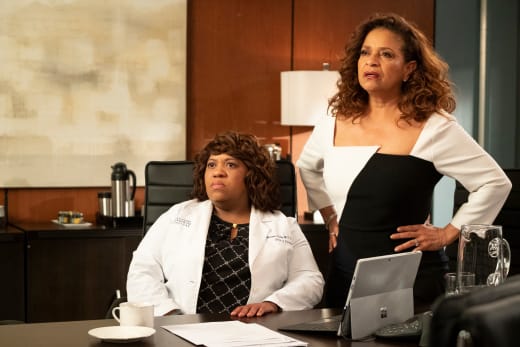 Meanwhile, the fog is what's keeping everyone else from getting to the hospital. Link states that the fog is so thick ambulances cannot get through. 
Owen, Levi, and the agoraphobic blood donor for Gus, Frances, are stuck in traffic in the thick of the fog and have experienced a car accident as all the cars are piling up on each other. 
-Related: Get Walter Presents via Prime Video Channels for Original, Exclusive, Hit Series from Around the World! -
Meanwhile,Teddy will not be having her baby at Owen's apartment, but she might have her baby in Amelia's car! The two women are stuck in traffic in the foggy mess with no way of getting to the hospital.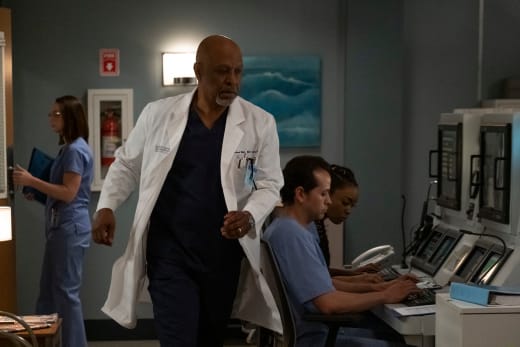 If none of the above is stressful enough, Jackson picked the worst time ever to go camping.
Related: Grey's Anatomy Promotes Three Actors Ahead of Season 16!
He and Maggie are stuck in the middle of a camping site in the midst of this abominable weather -- forced to brave the elements. 
It does not look good for them!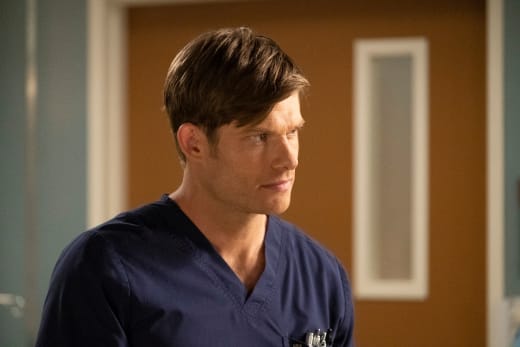 The record-breaking series was just renewed for an additional two more seasons, and based on how insane this finale looks, it's proof that they can still leave us on the edges of our seats! 
Check out the promo below and hit the comments with your thoughts. 
As always, you can watch Grey's Anatomy online here via TV Fanatic! 
The season finale of Grey's Anatomy airs this Thursday on ABC!