Criminal Minds Sneak Peek: Prentiss Has a New Job -- And it Sucks!!!

Carissa Pavlica at .
This exclusive clip of Criminal Minds Season 13 Episode 16 has it all.
Emily Prentiss is doing her job well, she's annoyed with a new partner, she's putting forth one hell of an eye roll, and the new partner calls her on her past FBI behavior.
What more could you want, right?
Oh, he also wonders why she's a rank and file OPR agent now. So, that's something!
What the hell is that?
I'm not going to tell you if you weren't paying close attention to the last episode. There has to be at least one reason to watch the full clip, right?
Related: Criminal Minds Season 13 Episode 15 Review: Annihilator
I didn't catch the partner's name. I'm not even sure it's provided in the short time we spend with him in the sneak peek, but wow does he give off an interesting first impression.
He's an old-school agent. He's the kind of guy we'd expect to be on a show called Giggles with the Bureau and set in the '80s with kitschy music.
Add the fact they're picking up a, erm, fellow with a hooker, and we can add some bow chicka wow wow music to make it even better.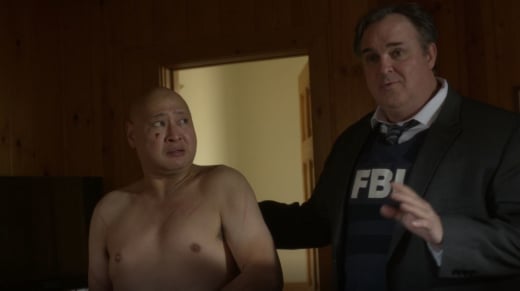 The scene, though, is lighthearted. It's unexpected. It's not dour and depressing as I would have expected of the BAU agents who got scattered to the wind in new roles.
It reminds me a bit of "Once upon a time, there were three little girls who went to the police academy." Geez is that sexist or what? Nonetheless, it was a goofy start to a show that was more serious (don't argue with me).
Related: Get CBS All Access via Amazon Channels for Hit Shows, Exclusive Originals & Live TV!
That Criminal Minds isn't necessarily going dark while the team is disbanded seems like a good thing. The new jobs must get to all of them because they decide to meet clandestinely on "Last Gasp" to help solve a case. Will the title be a reference to their status as a team or to the case?
Maybe a little of both.
I'm keeping my fingers crossed that they don't take the plane because something tells me a clandestine operation will not be that for long if the BAU goes missing. Isn't one rogue agent enough?
If you're not sure what's going on lately with Prentiss and AD Linda Barnes, watch Criminal Minds online. Otherwise, tune into CBS tonight at 9/8c and be back here later for a full review of the episode!