Criminal Minds Sneak Peek: Barnes Is Along for the Ride!!

Carissa Pavlica at .
Assistant Director of National Security Linda Barnes is making her presence known.
She's assigning the BAU's cases, doing a thorough investigation of the team, and she's even hopping on board with them for an investigation.
Ask Kirsten Vangsness said in our recent interview, Barnes is no joke.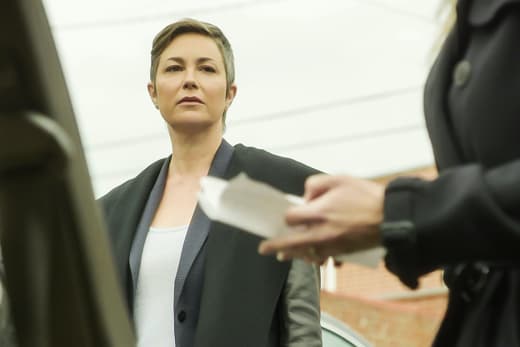 Vangsness also noted how difficult it would be for the team to be themselves around the Assistant Director, and we get our first look at that behavior as they take off on their way to do what they do best: solve a horrifying crime.
On Criminal Minds Season 13 Episode 15, the BAU is called to help investigate a quadruple homicide involving roommates.
Related: Criminal Minds: Kirsten Vangsness Talks Exciting BAU Challenges Ahead
From the clip alone, we can see how deviant the killer (or killers) was to have massacred the roommates so viciously. It must have been a terrifying way to spend their final minutes on earth.
While the BAU will be on their best behavior for Barnes, will they also be able to give their full attention to the case with her looking over their shoulders and watching their every move?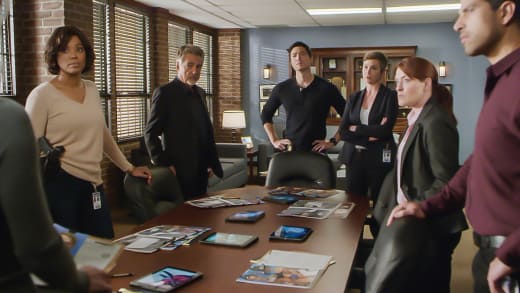 It's not always easy to do your best work when the Professor who is hoping you screw up is standing behind you watching you complete your assignment.
Garcia is obviously on edge, greeting her comrades with a proper, "Good day," before seriously delivering the information she's gathered.
That's so unlike her and it's hard not to imagine she's thinking about every word and even her inflection as she shares with the team what she knows. That's not always the best route to take. 
Related: Get CBS All Access via Amazon Channels for Hit Shows, Exclusive Originals & Live TV!
Allowing yourself room to breathe on the job so you can feel what your gut is telling you about a case has to count for something.
This arc is only just beginning, so strap in for a bumpy (albeit satisfying) ride with the BAU and Barnes. 
We'll see you tonight after Criminal Minds airs on CBS at 10/9c!!