The Affair Season 4 Episode 5 Review: The Truth About Gabriel Lockhart
Paul Dailly at .
All roads lead back to Alison. 
That's what Cole realized on The Affair Season 4 Episode 5 as he continued his walkout from his marriage, and it made for one of the best episodes of this Showtime drama in a long time. 
The addition of Nan in this hour helped give us a whole new perspective on Cherry and Gabriel's relationship.
We learned a lot about it early in the series, but without knowing the finer details, it was more of an enigma. 
What we know now is that Gabriel found the woman for him, but returned home at the request of his wife who threatened to kill herself.
It makes sense that Cherry left that part of the story out when she told Cole about the walkout on The Affair Season 4 Episode 4. 
How do you tell your kid that you're partly responsible for their father killing himself?
While Nan's methods to heal Cole were a little out there, they were successful. 
If you watch The Affair online, you know that Cole's relationship with Luisa has been all over the place, and it seemed like it was all down to the latter's undocumented status. 
It's easy to assume when we're not being told the full story.
Now, we know that Cole feels terribly for the way things turned out between him and Alison after their son's death. 
He resents her for turning to someone else for comfort, and for it leading to the end of their relationship.
However, Cole likely feels partly responsible for his part in all of it. 
Related: Get Showtime via Prime Video Channels for Award-Winning Original Series, Hit Movies, Sports & More!
I did expect Cole to want to return home quickly after his tryst with Delphine, but I thought it was going to confirm to him that his relationship with Luisa was worth saving. 
Never in a million years could I have imagined him concluding that getting back together with Alison would be the best foot forward.
He's petrified of repeating the mistakes his father did.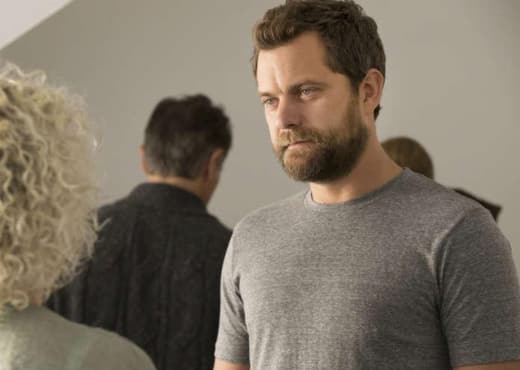 The revelation that Cherry was the one who sent the letters back shocked me.
I knew there was going to be a big twist in that love story, but Nan went all of that time thinking Gabriel fell out of love with her. 
In reality, Gabriel likely killed himself because he was not happy with his life.
That's not to say he would not have killed himself if he stayed with Nan. 
We don't know the true extent of what he was going through.
All we know is that he was not happy with Cherry in the 1970s and he disappeared for a few months, found a new lover, before returning home. 
Alison being missing in the present is now making me think that she's going to spiral after learning that Cole still loves her.
She moved on and was finally stable. 
Related: The Affair Season 4 Episode 1 Review: A Captivating Return to Form
It would be horrible if Cole confessing his undying love was the thing that sent her off the deep end. 
The biggest surprise from the episode was that the first half of it was told from Vik's perspective.
He's the one dealing with cancer, so it was a good change of pace to find out more about him. 
He's become stuck in a rut, doing things to suit other people, and the cancer diagnosis has made him take a long, hard look at what he wants from life.
I would even go as far as saying that him wanting a child is more about benefiting his parents.
He knew he was asking for a lot of Helen to become a mother again. 
Helen has the worst timing. She told Vik the truth after they got the bad news about the result.
She should have been more vocal from the get-go about how she really felt. 
In a sense, she wanted to make Vik happy because she knew there was a timer counting down for both of them.
Now that Vik has cheated on Helen, I'm beginning to think that Sierra might wind up carrying his baby. 
How would Helen react to that?
Not well, and it would likely result in her making her way back to New York. 
Related: Shameless Gets Season 9 Premiere Date
This hour excelled at peeling back the layers on the characters and their stories.
It felt like two short films, but both of them were about men who were in the midst of a midlife crisis.
What did you think of the episode, The Affair Fanatics?
Hit the comments below. 
The Affair continues Sunday on Showtime. 
Paul Dailly is the Associate Editor for TV Fanatic. Follow him on Twitter.