Agent Stahl was back in action and creepier than ever on Shades of Blue Season 3 Episode 4. The guy really does make my skin crawl. 
I've been waiting for those flashback scenes of Stahl calling 911 since Shades of Blue Season 3 began, but as much as it satisfied some of my curiosity,
I could have done without watching Stahl pull out his own broken death. That was gross. 
I also found myself wondering how much money Stahl stashed away as he made it down to Mexico only to head back to New York City to stalk Harlee. 
Stahl has been such a disturbing villain that I was oddly happy that he wasn't killed off at the end of Shades of Blue Season 2, but now I want him gone. 
The way he twisted his own psychosis to blame Harlee for everything was frightening. 
I let her into my head, into my wiring, and once you do that you give up control. The part of you that knows better is screaming at you to walk away but the other part just can't let it go. It's like gravity, the pull is too strong. Some days I feel my sanity slowly slipping away, stolen from me. And yet every time I see her I feel the same rush, that same mixture of nausea and joy.

Stahl
I thought his anger over Gina talking to Harlee would have led to Gina's murder, but Stahl had more sinister plans than death, although it wouldn't surprise me if he kills Gina once he's done with her. 
RELATED: Get Shudder Via Prime Video Channels for Spine-Tingling & Provocative Films, TV Series, & Originals!
I'm curious to find out if the FBI will simply believe everything Gina said over the phone or if they'll find it suspicious that she's changed her story after all of this time. It could go either way. 
But Harlee has so much on her plate already, and she doesn't even know that Stahl is close by, watching and plotting against her. 
I was surprised that there wasn't more fall out from Wozniak's beating, although the "visit" from Annie was a nice touch. 
It felt as though Woz was searching for his exit strategy out of this world. He's not the type to give up, but he looks so tired of it all, as though every step is costing him. 
Wozniak's problem was that when he pictured what comes next, he only saw darkness and felt fear. When he died for those two minutes in the ambulance, there was no bright light or family to greet him. He was scared and alone. 
Ramsay: I appreciated Detective Loman's effort but as a rule, I'm not a fan of half measures.
Wozniak: Well, that's one thing that you and I have in common.
At least Woz didn't put a bullet in the priest's head; Ramsay wouldn't have hesitated.
Woz still has a sliver of heart left in him, but I can't be sure if that's a strength or a weakness when going up against Ramsay. That man has a black hole where his soul should reside. 
And Harlee and Loman may be going up against him. 
How far is Ramsay's and the Intelligence Unit's reach? How many bodies can pile up in their wake before someone decides they have to be stopped?
RELATED: Shades of Blue: Ending After Season 3!
We know that Harlee ends up testifying and I'm puzzled as to how she gets that far without Ramsay killing her first.
Where Wozniak only sees the darkness, Harlee continues to fight to get to the light. One can only hope that will help her survive.
Harlee's right about Loman, it's not too late for him. He's on a slippery slope but his moral compass still recognizes right and wrong, and he can make a choice to be a better cop, especially with Harlee's encouragement. 
Loman gave Harlee hope as well, as he pointed out in this Shades of Blue quote that all bullies can be taken down, eventually.
They're not untouchable, not forever. Every bully, from wife beaters to gangsters to dictators, they can seem invincible for a while until almost always they're not.


Loman
Are Loman and Harlee the team to take down Ramsay? I hope so, but there are huge obstacles in their path. 
Starting with Stahl doing his best to either gaslight Harlee or destroy her. I'm still not certain what his overall plan is but I have no doubt it will be wicked and depraved.
Then there's the Intelligence Unit itself that has the power to listen in on almost any conversation, manipulate records, plant evidence, and murder at will.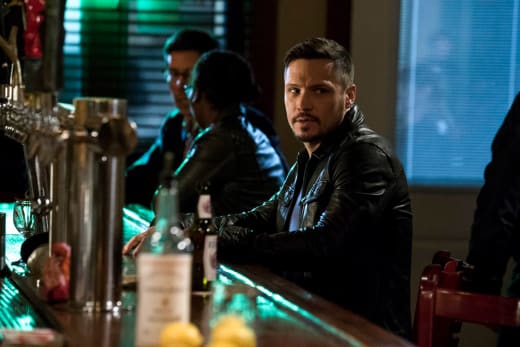 Finally, there's Wozniak, who, in trying to put his crew back together may end up tearing it apart from the inside out. 
Continuing to use Wallace was a betrayal. Tufo has worked so hard and worried himself sick over getting his brother a second chance. Now Woz has taken advantage of Tufo's loyalty and Wallace's need to find a purpose. 
If Wallace ends up dead, Tufo will never forgive himself for backing down against Wozniak. The guilt will destroy him.
RELATED: Get True Crime Files by ID via Prime Video Channels for Over 1,000 Real-life Mystery & Suspense Shows!
But whether Wallace lives or dies, I can't imagine that Tufo will ever look at Woz the same way again. That blind trust and sense of duty will forever be tainted. 
It's already felt as though Espada has been pulling away little by little. Will Tufo break ties with Wozniak after this disaster or will he take his anger and pain out on the Intelligence Unit? 
Is Wozniak losing control over his crew one by one?
The one person I don't recall seeing in the room as Harlee testified was Wozniak, and now I wonder what that means? Is he dead, in prison, or something worse?
Check back for my review of Shades of Blue Season 3 Episode 5, and until then, you can watch Shades of Blue online here at TV Fanatic. 
C. Orlando is a TV Fanatic Staff Writer. Follow her on Twitter.