Power Season 5 Episode 2 Review: Damage Control

Whitney Evans at .
It's becoming very clear that all roads lead to the Jimenez. 
While the demise of Dre is driving Ghost, Tommy, and Kanan forward, they're simultaneously looking to bring down the Jimenez cartel, now that their lives are on the line. And while they close in on the powerful cartel from one angle, Angela and company are closing in from another.
Power Season 5 Episode 2 continued to raise the stakes for everyone, as lines were drawn and new wars were ignited.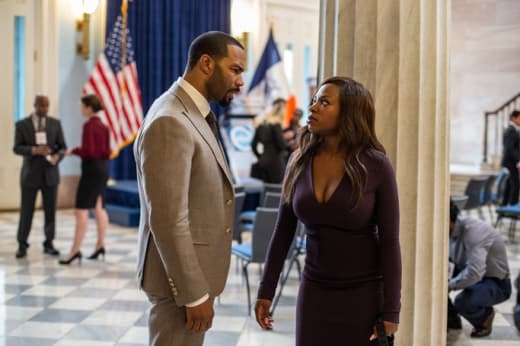 Did anyone else forget all about Jason? With everything that happened at the end of Power Season 4, Tommy's supplier was a bit of an afterthought. But his arrival signals a significant shift amongst our newly reunited band of brothers. 
Killing Dre is now secondary to getting rid of the Jimenez, and how the boys are going to pull this off, I have no idea.
They can't infiltrate the cartel straight up because of Dre, but there may be cracks in Dre's foundation already, that may provide the in they need to bring it all down. 
Related: Power Season 4 Episode 10 Review- You Can't Fix This
Francis "2-Bit" really thought he was doing something good by killing Lorenzo in broad daylight, in the middle of the city.
I have a feeling Dre may end regretting keeping him alive as time goes on. Diego can continue trying to keep Dre in line, but this is Dre we're talking about here. 
Dre's arrogance is one of his biggest weaknesses. And it will surely lead to his inevitable downfall.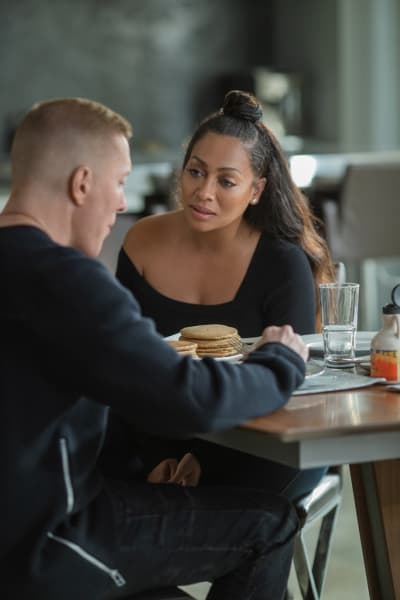 As in seasons past when Lobos was the lynchpin guiding Ghost and company to an eventual clash with the government, the Jimenez cartel is going to lead to Ghost and Angela's worlds colliding again.
It will be interesting this time around though as the objective on both sides is to bring the cartel down.
I wondered during Power Season 5 Episode 1 if all the guilt and pain would lead Ghost back into the drug business, but I genuinely believe him when he says he's out. Ghost continues to collect loss after loss and what has the drug business brought him besides money?
Just think about the James St. Patrick we met many moons ago. The man who masqueraded as a businessman and drug dealer, while carrying on an affair and seemingly never breaking a sweat is long gone. And not only is that man gone now, but he's also irrevocably broken as well. 
Related: Power Season 5 Episode 1 Review - Everyone is Implicated 
The spiral is beginning for Ghost now that he's drinking and has seemingly become a midnight vigilante. Was the killing of the drunk man a one-off thing or will this kind of behavior continue? It's hard to say right now as it appears the path for Ghost will only get harder.
Angela is ignoring Ghost's calls, and you really can't blame her, although it's hard to watch knowing that she is probably the only person on the planet capable of getting through to him and providing him any sense of comfort. 
I know the fandom is decidedly split on this union but at the end of the day, it's a major piece of the story, and it always will be. Angela has always been the person who makes Ghost want to be Jamie, but it feels like that man may be gone for good.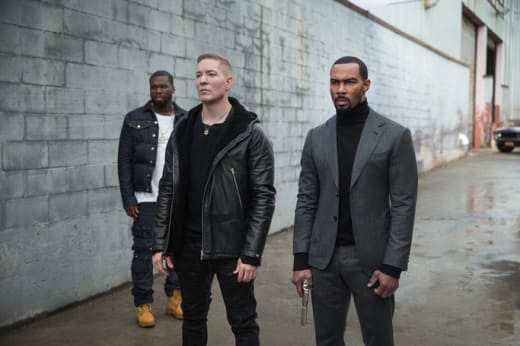 Kanan is many, many things but honest and trustworthy he surely is not. He has legitimate reasons for wanting Dre dead, namely the fact that Dre wants him dead, but to think that he was just helping Ghost and Tommy out of the kindness of his heart would be incredibly naive. 
Tommy: What the fuck happened with the job?
Kanan: Turn your volume down, motherfucker. My boys did they part. They said Dre saw them coming like somebody warned him or something. Took off running like a little bitch. Your Italian boys fucked this up.
Tommy: Bullshit.
It will be very interesting to see how Kanan tries to get in with Jason. Their first meeting wasn't exactly groundbreaking, but it was easy to gather that Jason isn't a Ghost fan and it won't be hard to convince Jason that there will never be a Tommy without Ghost. 
Related: Get Starz via Prime Video Channels for Captivating Original Series & Hit Movies
We've been there, done that with the Ghost and Tommy versus Kanan storyline though, so I'm going to need this to pivot away from the direction it's looking to take.
Kanan works best when he's integrated into the main stories by way of Ghost and Tommy but what we don't need is a replay of past seasons. 
For as awful as Kanan has been and continues to be, there's an almost likable quality to him when paired with those two in a tenuous, antagonistic partnership.
If we are going to be forced to endure Kanan forever, I'm going to need more of this and less of them trying to beat each other to death. 
Everything Else You Need To Know
Guys the Proctor storyline is just not all that interesting at the moment. The suspense over whether or not he gets his license back is not compelling. Wake me up if he's forced to start snitching on Ghost and Tommy. Then things could get interesting. 
Does Rashad know the kind of man Ghost really is? He's being awfully bold ambushing Ghost the way he is. 
Does anyone else feel bad for Spanky? 2-Bit deserves the demotion and the lecture, but poor Spanky was caught in a bad situation. Spanky deserves better. 
Diego is like Lobos-lite. No one will ever match the extraness that was Felipe Lobos. 
Tommy has issues, and there's STILL that whole unresolved issue of him killing his girlfriend, but dammit if I don't like him and Keisha together. Apparently, I'm a sucker for love in a world full of violence. What can I say? 
I know Cristobal is with Dre, so he's guilty by association but I'm keeping my eye on him. Dre keeps acting holier than thou, and he may find that Cristobal deflects to the other side. 
This season is off to a strong start, with the pieces coming together nicely. And it's only a matter of time before everything collides. What did you think about "Damage Control"? How are the guys going to bring the Jimenez down? Is Dre in over his head?
As always, leave a comment so we can talk things out. And remember to watch Power online, so you're all caught up!
Whitney Evans is a staff writer for TV Fanatic. Follow her on Twitter.