Cobra Kai Q&A: Star Xolo Maridueña Talks Acting, Parenthood & Being Part of The Karate Kid Legacy

Rachelle Lewis at .
Cobra Kai is the YouTube breakout hit of the summer. Xolo Maridueña, pronounced Sholo, is one of the young stars taking the classic cult Karate Kid franchise to the next level.
The talented actor talked to TV Fanatic about his acting journey, his time on Parenthood, as well as what it is like to be part of the Karate Kid revival.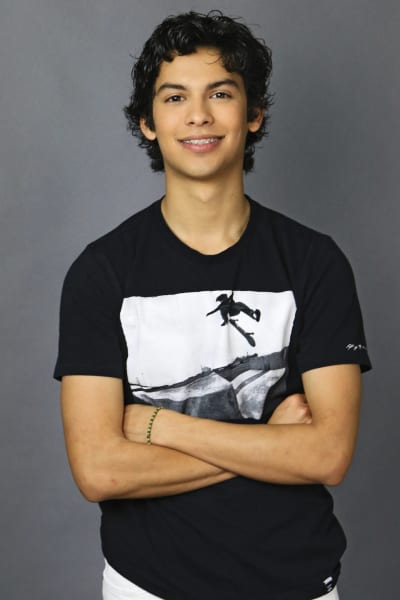 TV Fanatic: I'm thrilled to meet you. I've been a big, fan of yours since you were on Parenthood and I have watched Cobra Kai twice. You're just amazing in the show, and we'll get into that a little bit later but first tell me how you got into acting.
Xolo Maridueña: Seven or eight years ago my family moved from Las Vegas to Los Angeles. My mom had a friend who was an agent, and she was like let's go out for commercials or print to get me exposure in the entertainment industry. My mom wasn't sure at first, but we ended up trying it.
I went out for a Sears commercial, and I ended up booking it. After that, we didn't really know what to do. We didn't know what a Coogan account was. We didn't know what it meant that I have a manager or what it meant to be part of an agency.
Stuff like that was really a learning experience for both my mom and dad when it came to the acting industry. Then I got a print job here and commercial there. It all started to build up slowly. Finally, Parenthood came around, and by some super crazy chance I ended up booking that.
Since then I've just been going off of that, now we're here at Cobra Kai, and it's really good.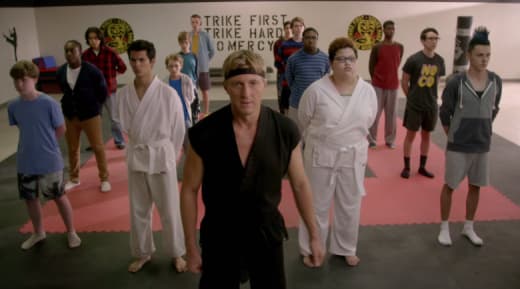 TVF: What was it like for you coming into Parenthood a show that was already established but also established with such a well-known cast, especially considering it was your first big acting job?
XM: It was by far the biggest show that I worked on up until that point, and it is very intimidating. I didn't know a lot of the actors, so that helped me a lot. The only person I recognized was Craig T. Nelson and not because of him, but because he is the voice of Mr. Incredible.
So going out to those auditions was a little bit easier because I wasn't so nervous. I didn't know how big the show was and I didn't know any of the actors until after booking the show. But after booking the show and realizing how strong the fan base was at the time, it was a little intimidating.
You have fans and people that watched the show for the past three years because I came on at the end of the third season. It was intimidating trying to make sure you're doing everything in your power to make sure you only add to the show and don't take away from the experience the audience has already had from the first three seasons.
That was a little bit difficult, but everyone on that show was so welcoming. They really wanted the best for everyone else involved in the show, which made it not super duper difficult or nerve-wracking when it came to filming.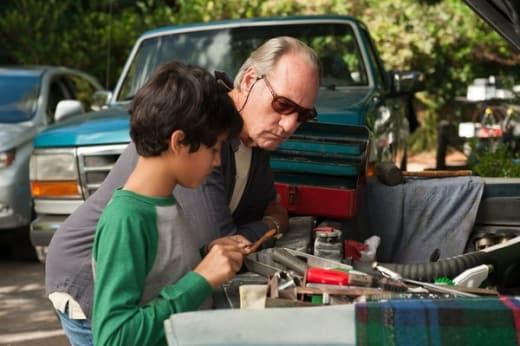 TVF: Do you have a favorite episode of Parenthood?
XM: Any scene on the baseball field was really great because it was one of the few moments where I got to work with everyone in the cast. Also, the episode where Victor gets adopted is a really awesome episode.
We got to film on site in Pasadena, and it was really cool because I got to talk to Joy, Jason, and Dax, people I really didn't have the opportunity to talk to at other times. The show is really based around each family.
Because of that I really only got to work with Erica, who played my mom, Sam who my dad and Savannah who played my sister. Those big ensemble scenes in episodes where you get to work with like the entire cast were really the best.
Related: Get Great Selection of New & Classic Movies with the Lifetime Movie Club via Via Prime Video Channels!
TVF: It was a great show, and you were a very welcome addition to it. I was a big fan. After Parenthood ended what were you doing between then and Cobra Kai?
XM: It was an interesting time after Parenthood. There was an odd gap where I was 13 through 15 either trying to play older or younger. It's hard when you're 15, 16, even 17 because you're competing against people over 18 that look younger.
That's really the biggest demographic because there are so many more benefits when you are casting people that are over 18 but look younger in terms legality such as the hours they can work versus someone under 18. In between Parenthood and Cobra Kai, there really was this gap in working.
I did some guest star roles on Twin Peaks and Rush Hour, but there wasn't a consistent workflow like there was with Parenthood. It was a little odd because I went from being on a show for three years and having that security to not knowing where to go from there. I'm happy everything has panned out.
Cobra Kai has been the best show that I've worked on, which is really surprising because Parenthood at the time was the best thing that had ever happened to me. Everyone that was associated with Parenthood really did solidify for me that I wanted to be an actor.
The fact that Cobra Kai is just that much better makes my heart happy. It's a not necessarily a guarantee you're going to work with such a great people or that people in the industry are going to be kind or gracious. I'm really grateful I have had that happen on both shows.

TVF: How did you land the role of Miguel and what was it about the character that interested you?
XM: Throughout the arc of the show, Miguel really does go through a crazy transformation, and that really attracted me to the role. I love being able to exercise my well-roundedness when it comes to being an actor.
I'm not going to spoil anything but going from the 1st episode Miguel to the 10th episode Miguel really is a significant change. It is fun to play a character that is three-dimensional, does more than speak, is emotionally driven and really does bring more to the table.
Because of that, it is really awesome to put a little bit of life into the role and bring a little bit of me, Xolo to Miguel. He is such a great character to play. His dynamic with almost everyone else in the show really does fluctuate throughout the season, and that really caught my attention.
TVF: Without giving any spoiler away Miguel goes from being really likable at the beginning of the series to slightly less likable at the end. How did you feel about that because he's still the same core character, but you can definitely see a significant shift in his character/personality?
XM: I had the chance to talk to Billy Zabka, who plays Johnny Lawrence, about his character in the original Karate Kid and I asked him '"Hey, you're the only one that really knows how you felt about the character. You're the only one that knows why you portrayed the character in this way.
What was your motive throughout the Karate Kid?' He said throughout the whole, filming and watching the movie he didn't consider himself the bad guy. He just considered himself someone who is put in a bad position and reacted the way any high school kid would.
I mean that is paraphrasing, but that's the general gist of what he told me. So because of that conversation going into Miguel, this character who really does go through a large transformation, I wanted to make sure that no matter what was going on with the lines and the scenes that it is understood he doesn't know any different than what Johnny teaches him.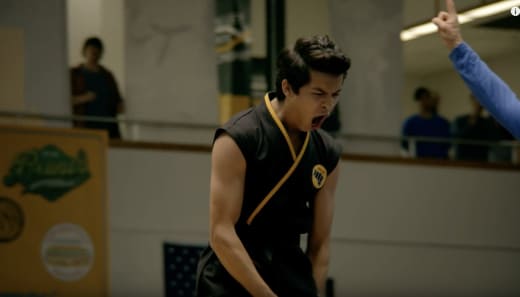 When we meet Miguel, he doesn't have a role model in his life other than his mother and his grandmother. So when Miguel meets Johnny and he's introduced to Cobra High, it's really all Miguel knows. He has no comparison as to what else do you believe other than what Johnny has taught him.
Because of that going into that last episode, he doesn't feel like everything that is going on is his fault. He doesn't feel like he is to blame because he's so passionate about Cobra Kai. The line in the last episode that really I think solidifies his thinking is when he says "there's nothing dirty about winning."
He's like "no mercy," and it is a switch where we see Johnny go "what have I created." In my eyes, that's where the most significant switch happens. I think that's what we're going to have to see in season two, regarding the direction of the character. What depths can be added to the character?
It is a significant switch, but it's written really, really well. I have to thank the creators for making sure that it's not just a good guy and a bad guy. Robbie isn't the bad guy, and Miguel isn't the good guy. It really is gray. There's no black and white. It is great.
So because of that, I have to be able to weigh out the pros and cons and, holistically, take into consideration what the character's motives are, the situations that he's being put in and how he reacts to those situations.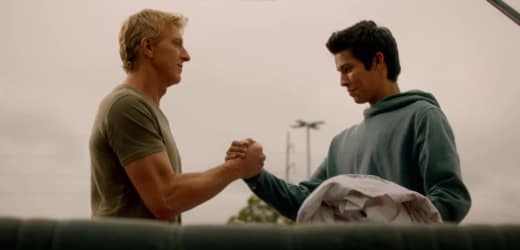 TVF: Speaking of next season. What are your wishes or hopes for Miguel? Do you have any or are you waiting to see what happens?
XM: You know what that is a great question. I have no clue where they're going to take the character, and I have no clue where I wanted to him to be taken. I had no idea going through the transformation in the first season was going be so fun. I will let the writers do the writing because they are great at it.
I am here to say the words and act it out. Because of that, I don't really know where I want the series to go, but I have no doubt in my mind it's going to be taken to the next level. There's going to be new characters introduced as the story continues.
Related: The Karate Kid Sequel: Ordered To Series!
TVF: Were you aware going into the show what a cultural phenomenon The Karate Kid was? There is a lot of history involved in the show since it is a revival, had you watched the movies before you got the part of Miguel?
XM: I had watched the 1984 film. But by the time I went out for the audition for Cobra Kai, I did not remember anything other than sweep the leg and the crane kick because those are such a part of pop culture. They're just everywhere. Those were the only two things walking into the audition that I knew.
The Karate Kid remake came out closer to the time I was growing up, I mean, I'm still growing up, but closer to the time I was really watching movies. But walking into the audition, the history pressure wasn't necessarily on because I really know about it. The thing that makes the show crazy is the fan base is so passionate.
After the trailer come out for me, it was like, "Whoa these people are really, really passionate." When they announced last year Cobra Kai was coming out fans were like, "you better not ruin it, I've been waiting 30 years for this." Watching that dynamic for me was like, "I hope they love the show," and I think they did.
I think it satisfied both parties when it came to fans who watched the original and for those fans who this is the first, Karate Kid that they have seen. It appealed to everyone, and I think the creators did an awesome job when it came to the show.
TVF: What was it like to work with Billy and Ralph Macchio for the first time?
XM: I didn't get to work with Ralph too much. I think I had one or two scenes with him, other than the final episode. But we definitely did have a lot of conversations. Some of the scenes were filmed on the same stages, so his scenes would be at the same time as mine. We'd have lunch together and talk.
Both Ralph and Billy break the stigma that everyone in this industry is a jerk. They are phenomenal, not only as actors but as people. You look at these actors, and you sometimes forget they have lives other than the characters you see them portrayed on the screen. These people have stories to tell.
They're not just Daniel and Johnny, they real people. Getting to learn about them, their families and their experiences they've had in life was awesome on top of the fact that they're so nice. They're gracious and welcoming; it was such a pleasure to work with them.
Ralph and Billy are huge actors and seeing how someone so big is also so humble; it really does remind you not everyone is a jerk. I'm like, okay, these guys are doing it the right way.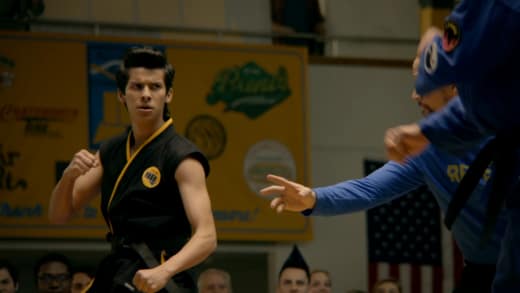 TVF: Did you know karate before or did you have to learn once you go the role of Miguel?
XM: I too karate back in like first grade for about a year and a half and I did a little bit of competing back then. After booking the role I kind of was like I did this before, it'll be all good. But the training really did kick my butt.
The biggest concern for everyone involved was that we were safe. It's so easy to hyperextend something or kick the wrong way. I did have to learn while we were on set, but it was made 1,000 times more comfortable because of the support that was given to us.
TVF: Do you know when you will start filming season 2?
XM: I have like a general time in which we're starting but not a specific date, I know it will be this month sometime but not necessarily a particular time.
Related: Last Man Standing Eyed at Fox
TVF: You just finished your junior year of high school. Did you work on any other projects after you finished the first season of Cobra Kai or did you focus on school?
XM: There definitely are some things in the cards that will hopefully play out. There are a couple of projects in the making I hope to be a part of. I am not necessarily consciously looking for other jobs, but I am keeping an eye out, looking for opportunities that will either benefit others or be great opportunities for myself.
TVF: What do you want people to know about Cobra Kai? It could be anything about you, the cast or the show in general.
XM: There is a weird stigma when it comes to watching shows that each show has a specific demographic. If you're going to watch Cobra Kai, it's either because you like the Karate Kid movies or you like karate. Those are the only two reasons why you should watch it, but it is really not that at all.
I think Cobra Kai is a special case in the sense every character on that show is relatable. The show does a great job when it comes to representation of both people of color and different backgrounds. I think it does a phenomenal job with that. Cobra Kai is a comedy, a drama and full of action.
It is not made for one type of person, and that is why I feel people should take a chance on the show. I think this is a show that can change people's lives for the better or for, the less better but I definitely think for better.
TVF: Thank you for taking the time to speak to me, it was a pleasure and congrats on the success of the show.
XM: Thank you I am glad you enjoyed Cobra Kai.
Cobra Kai Season 1 is now available on YouTube Red. It is definitely worth watching if you have not checked it out already.
Rachelle Lewis was a staff writer for TV Fanatic. She retired in 2019..