Madam Secretary Season 4 Episode 20 Review: The Things We Get to Say

Elizabeth Harlow at .
Can we keep Tim Kang?
Or at least give him a spinoff? Neal Shin's introduction on Madam Secretary Season 4 Episode 20 proved that the writers on this show know what they're doing. 
Really, the whole team knocked it out of the park, from set designers to the director. The amount of effort and attention to detail that went into expanding the world for this one-hit-wonder of a character was a mark of excellence.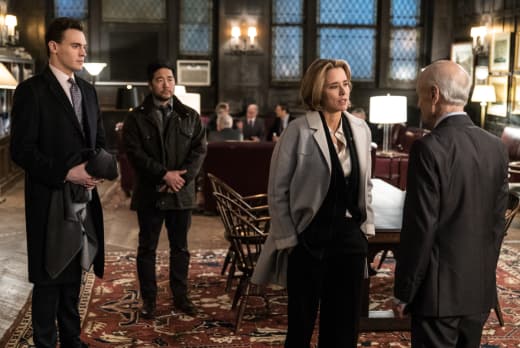 Neal Shin was that rare thing, a full formed guest character.
He had a backstory that wasn't dumped on us all at once and also consisted of more than one fact. He had a family, he had an apartment with a crappy fridge. He had an Instant Pot. 
He was complicated and had more than one motivation and wore very stereotypical reporter clothes and asked hard questions just seconds after acting like your friend. He was perfectly imperfect.
Related: Enjoy UNLIMITED access to thousands of Movies & TV Shows with Amazon Prime Video!
This character pretty obviously had a lot going for him when he was just words on a script, but Tim Kang (The Mentalist) has to be given credit for bringing Neal to life. 
There were a lot of great aspects to Neal that were all his. His spat with Morejon's comms director, his dedication to truth and integrity, his discomfort with his desire to land a book deal -- he was a real person.
But he also played well with others.
Lisa: You know, I love being coached on how to improve my life by a gossip-monger eating ramen in a sweaty press pool.
Neal: Yeah? Well, a life of integrity means you eat a lot of ramen!
There were a lot of callbacks to earlier episodes facilitated by Neal's profile. Morejon has obviously been a thorn in everyone's side for a while, but Neal brought a new perspective on what a tool that guy is. 
There were lots of little jokes about Elizabeth's quirks that got new kinds of play thanks to the interloper. I'm not sure which was funnier, her trying to downplay Blake arranging a personal all-you-can-eat buffet or her gift of a wet/dry vac. 
And there was the interview with Amina Salah, who I wish was a real person so I could read her autobiography. Amina's scene with Neal at the hotel bar was fantastic. I loved getting a chance to see what Elizabeth's peers really think of her. That's such a complicated relationship.
Amina: It can't be that hard, writing a positive profile?
Neal: You can't a drawing without shadows. Not a good one.
I really liked when Neal was being just a touch adversarial too. His questioning of Stevie on the nepotism that got her the job was long overdue.
Because despite what the ethics professor thinks, it was nepotism. It was kind of amazing to watch Stevie have that realization as she spoke. Not that it will prompt her to resign and give the position to someone who earned it thought. 
I did feel a little bad for her for not realizing that she was back on the record. And surprising, because she works directly for Russell freaking Jackson, and shouldn't talking to the press been covered on day 1?
Related: Get CBS All Access via Prime Video Channels for Hit Shows, Exclusive Originals, & Live TV!
Of course, it wouldn't have been much fun to have Neal shadow on days when there wasn't a crisis. Oh wait, those days don't exist, do they?
The caravan of refugees was very timely, as we've come to expect from these writers. The actual refugee caravan just reached America's southern border this past week, and things aren't going as well for the actual migrants seeking asylum.
I'd say they should take a cue from the social media faux funeral the kids staged, but I don't think that would work in todays charged climate. 
So I hear our senator from Arizona wants to play hard ball and you showed up with a Wiffle bat.

Russell
I understand why Neal was upset about Elizabeth working with the private prison CEO. We've all watched Orange Is The New Black and read the Mother Jones piece and heard the stories about corrupt judges accepting kickbacks.
But it is an interesting idea to take these facilities and re-purpose them. 
There's still the hurdle of achieving actual immigration reform  of course, but that's not really Elizabeth's problem. 
Neal: So, I wanted to ask you, uh, about the impact of the job on your family. [Elizabeth's phone buzzes]
Elizabeth: I am so sorry, I have to take this.
Allison: And there you pretty much have it. Pasta?
No, Elizabeth has other problems on her plate. Like a Middle Eastern power suddenly going incommunicado on Madam Secretary Season 4 Episode 21 ("Protocol").
I am curious if that would be such a big deal if they weren't also dealing with a terrorist threat in the region. How worried on any given day is the Secretary of State that they haven't heard from Oman or Kuwait?
And now that Stevie's back from where ever the hell she was, we'll get some more scenes with her and Russell. I'm not all that interested in how the chief of staff deals with stress, but I do love Zeljko Ivanek, so I'll take it.
Related: CBS Renewals: Which Major Show Is Missing? 
What did you think of "The Things We Get To Say?" Did you like the change in perspective? Did you miss the McCord family banter? Will Elizabeth's deal with Morejon about the prisons come back to haunt her? What do you think was on that drive?
Share your thoughts in the comments section below! And remember, you can watch Madam Secretary online with us anytime!
Elizabeth Harlow was a staff writer for TV Fanatic. She left the organization in October 2018.